[widget id="bcn_widget-2"]
An Interactive Social Story about Going to School (School Routine, Behavioral expectations, and more)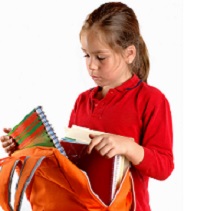 Below you will see an interactive social story about going to school.
The story helps children prepare for a typical school day, including their first day of school. You can also read this story with your child to practice reading skills.
Social stories are a research-based tool used to help children prepare for real-life events. They can help ease anxiety or set expectations for behavior in a certain situation.
Preparing for new routines and expectations can reduce anxiety
For children on the autism spectrum, those with anxiety disorders, or any child that may be apprehensive about a situation, social stories can help them feel more prepared to go into the situation.
Talk to your child about differences they may encounter in the story vs. a real school day.
You can explain that no two school days are exactly alike and that their day might differ somewhat from the story.
Encourage them to talk or draw pictures about how their day might differ.
The story gives your child space for drawing and writing. Feel free to print this story out and read it several times with your child/client/student (without pressure).
Children can draw/write in the spaces provided once the story is printed.
---
---
---
---
---
---
---
---
---
---
For More Free Social Stories See:
Thank you for visiting educationandbehavior.com,  a site that provides free support for all children in the areas of academic, behavioral, and social-emotional development. Many of our strategies can also be used to support adults with special needs.
Please share this story to help other children get familiar with the routine of the school day.
Recommended Articles:
25 Privileges You Can Let Your Child Earn for Good Behavior
How to Motivate Your Students and Get Them to Listen to You (great for parents too)
How to Get Your Kids to Listen To You and Show You Respect
How to Prevent and Handle Temper Tantrums
12 Effective Strategies for Children with ADHD (great strategies for kids with and without ADHD)
15 Behavior Strategies to for Children on the Autism Spectrum (great strategies for kids with and without autism)
Academic or Behavior Problems in School: Info for Parents
Rachel Wise is the author and founder of Education and Behavior. Rachel created Education and Behavior in 2014 for adults to have an easy way to access research-based information to support children in the areas of learning, behavior, and social-emotional development. As a survivor of abuse, neglect, and bullying, Rachel slipped through the cracks of her school and community. Education and Behavior hopes to play a role in preventing that from happening to other children. Rachel is also the author of Building Confidence and  Improving Behavior in Children: A Guide for Parents and Teachers.
"Children do best when there is consistency within and across settings (i.e., home, school, community). Education and Behavior allows us to maintain that consistency."