A Story to Teach Kids How to Calmly Accept the Word No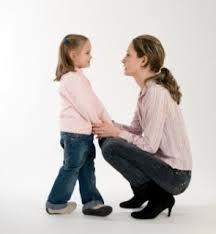 If you have read my articles on positive behavior support, you know that I am not a big fan of simply using the word "no" when it comes to telling kids what they can't have.
Research and my own experiences show that telling kids what they can have instead, empathizing with their feelings, offering choices, and explaining the reason for things is much more effective than simply saying "No! Because I said so!"
Related Article: How to Prevent and Handle Temper Tantrums
The reality is, however; that people will continue to say no to kids and kids have to learn calm ways to handle the fact that they can't have what they want.
This is why I wrote this interactive story: I Hate the Word "No!" The purpose of this story is to teach children coping skills they can use when they hear that dreaded word "No!"
You can view the story right on this page or print out a PDF version to read with your child.
I Hate the Word No
(A Social Story About Calmly Responding to the Word No)
________________________________________________________
.
Sometimes adults and other kids tell me "no!"
They won't give me what I want.
I can't control what others do but I can control what I do.
_______________________________________________________________
When I can't have what I want, I feel:
Circle the feelings you have when you can't get what you want.

_______________________________________________________________
When someone tells me "no" I can do some things to stay calm.
I can choose something else to do.

I can take a break by:
walking away

or by sitting down and taking deep breaths.

I can say how I feel.
__________________________________________________________________
When someone tells me no, I will keep my hands and feet to myself!
I will be respectful and safe.
I cannot hurt myself or anyone else.
I cannot destroy property.
I cannot scream or say mean things to anyone.
___________________________________________________________
Here are some examples of what I can do when someone says "No!" to me.
Example 1 – At Home:
"I want that cupcake!" Mom says "No!"
I can:
ask for a piece of fruit
go listen to music
or say I feel frustrated because I really want that cupcake!
I can't:
hurt myself or anyone else
destroy property
scream at anyone.
_____________________________________________________________________
Example 2 – At School:
"I want to read that book about baseball!"
The teacher says, "No. Someone else took it from the library."
I can:
pick another book
sit at my seat to calm down
or say "I'm upset that I can't get that book! I love baseball!"
I can't:
hurt myself or anyone else
destroy property
scream at anyone.
After reading the story, your child may enjoy drawing a picture or writing down what they might do the next time they are told no!
You can make your own story by using real pictures of your child/family or pictures from Google Images.
Video Presentation
Recommended Social Stories:
All About Going to School (to help a child prepare for the school day)
I Am Going to the Doctor (to help children prepare for doctor's appointment; can be used with adults too; good for people with fear, anxiety, or resistance at check-ups)
I Am Going to the Dentist (to prepare children for dental appointments)
I Am Going to a Restaurant (to help children learn how to behave in a restaurant) Please bear with us-this story is currently in PDF view only but is in the process of conversion to mobile friendly view.

Recommended Articles:
25 Privileges You Can Let Your Child Earn for Good Behavior
Top 5 Reasons for Behavior Problems in Kids
17 Ways to Get Your Kids to Listen to You and Show You Respect
15 Behavior Strategies to Help Children with Autism
Thank you for visiting Education and Behavior, an online library that provides free academic, behavioral, and social-emotional content to support children!
Please share this to help others!
Rachel Wise is the author and founder of Education and Behavior. Rachel created Education and Behavior in 2014 for adults to have an easy way to access research-based information to support children in the areas of learning, behavior, and social-emotional development. As a survivor of abuse, neglect, and bullying, Rachel slipped through the cracks of her school and community. Education and Behavior hopes to play a role in preventing that from happening to other children. Rachel is also the author of Building Confidence and  Improving Behavior in Children: A Guide for Parents and Teachers.
"Children do best when there is consistency within and across settings (i.e., home, school, community). Education and Behavior allows us to maintain that consistency."
18% Off
$27.99
$22.89
(as of December 2, 2022 12:50 GMT -04:00 - More info

Product prices and availability are accurate as of the date/time indicated and are subject to change. Any price and availability information displayed on [relevant Amazon Site(s), as applicable] at the time of purchase will apply to the purchase of this product.

)
[ Toddler Learning Toys ] - This speech therapy toy includes a card reader and 112 double sided flash cards covering 12 subjects like shapes, colors, animals, daily necessities, transports, food, fruits, vegetables, costumes, nature, persons & jobs. ...
read more