[widget id="bcn_widget-2"]
What Does the Research Say About the Impact of Homeschooling on Academics and Social Skills?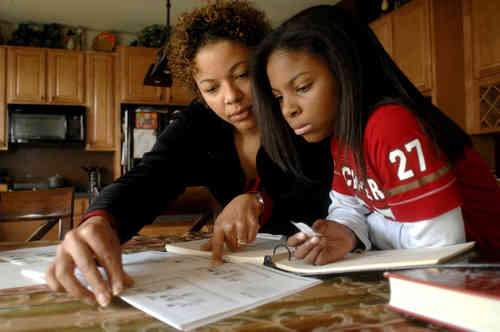 How did I end up doing research on homeschooling?
In a 2014 radio interview, the host asked me what the data says about homeschooling. "Do homeschooled kids perform as well as non-homeschooled kids? Is there a negative impact on their social skills?"
At that time I honestly had not done much research on the topic, so I could not give an accurate answer.
I politely said to the radio host, "That is not my area of expertise but I know people are concerned about the social impact it can have on children. However, some districts allow homeschooled children to participate in school-related extracurricular activities (i.e., sports) so they have an opportunity to be with their peers."
After the interview, I wasn't satisfied with my lack of knowledge on the subject so I decided to do my own research to let parents and educators out there know what the findings actually show.
First, some info before I present the findings…
I am not for or against homeschooling. I am simply providing data to make you more informed, so you have something to go on if homeschooling is something you are considering or if someone asks you about it.
Additionally, I could not capture all the data in a single article so I am reporting the most recent and thorough research I could find. I encourage you to do your own research if you want more information.
I also want to add that traditional homeschooling (as discussed in this article) is not the same as cyber school or virtual schooling.
Related Article: What is Cyber School Like: 10 Facts About the K-12 Experience
Two of the biggest concerns I have heard about homeschooling are that children do not have normal socialization experiences and this will affect their ability to relate to others, and parents are not certified teachers so how do we know that homeschooled students are getting a quality education.
Related Article: Homeschooling Today: Myth vs Reality
What Does the Research Say About the Academic Performance of Homeschooled Students?
According to an empirical analysis published in 2010, by Widener Law Review, called Evidence for Homeschooling: Constitutional Analysis in Light of Social Science Research "Homeschooled children achieve levels of academic achievement similar to or higher than their publicly schooled peers." These results cut across racial and socioeconomic lines.
Numerous studies demonstrate that homeschooled students obtain exceptionally high scores on standardized academic achievement tests.
For instance, one nationwide study analyzed data from 1,952 homeschooled students across the country and found that the students, on average, scored at the eightieth percentile or higher in every test category (i.e., reading, listening, language, math, science, social studies, study skills, etc.).
The national mean for these standardized tests, by contrast, was the 50th percentile. Many other studies have comparable results. For example, a nationwide research study published in the book "Strengths of Their Own – Home Schoolers Across America: Academic Achievement, Family Characteristics, and Longitudinal Traits (pages 54 – 57)" reports that of 20,760 homeschooled students in grade levels K-12 found the median standardized test scores to be in the 70th to 80th percentile. (50th percentile is considered an average score).
State-level studies have reached the same conclusion. A study in Washington State involving the Stanford Achievement Test scores of 873 homeschooled children found their median test scores to be in the 65th to 66th percentile range.
In fact, several studies which were conducted at state departments of education found that homeschooled students score highly on academic achievement tests." See Review of Research: The Modern Homeschool Movement (page 408).
Additionally, in 2008, Dr. Brian Ray, an internationally recognized scholar and president of the non-profit National Home Education Research Institute (NHERI), collected academic data based on 25 years of homeschool achievement.
Dr. Ray utilized 15 independent testing services, to obtain information from 11,739 homeschooled students from all 50 states, Guam, and Puerto Rico, who took three well-known tests—California Achievement Test, Iowa Tests of Basic Skills, and Stanford Achievement Test.
"Overall the study showed significant advances in homeschool academic achievement as well as revealing that issues such as student gender, parents' education level, and family income had little bearing on the results of homeschooled students."
National Average Percentile Scores

Subtest
Homeschool
Public School
Reading
89
50
Language
84
50
Math
84
50
Science
86
50
Social Studies
84
50
Core

a

88
50
Composite

b

86
50
a. Core is a combination of Reading, Language, and Math.
b. Composite is a combination of all subtests that the student took on the test.
Although the data support the notion that homeschooled students outperform traditionally schooled students on standardized tests, possibly because of the individualized attention they get in their instruction; we must consider other variables that could contribute to these findings.
For instance, the administration of standardized tests is not always monitored for homeschooled students. Depending on the child's grade, the state he lives in, and the test itself, the assessment could be given at home, in a specified location, or at the public school.
Is it possible that homeschooled children who take standardized tests at home have the opportunity to look up information or ask for assistance? I am not sure.
What about kids that have test-taking anxiety or those who are easily distracted? They may do better too if they took a test at home.
Do the scores themselves necessarily mean that homeschooled students are doing better academically? I think it is difficult to fully determine this based on scores alone. We also know that standardized testing is not the only way to measure knowledge.
What are your personal thoughts on the reason for the difference in scores?
Another way we can measure how homeschooled students compare academically to traditionally schooled students is to compare success at the college level. According to Online College.org "Research indicates that homeschoolers typically have higher GPAs than the rest of their class.
Homeschooled freshmen have higher GPAs in their first semester at college, with 3.37 GPAs for homeschoolers, and 3.08 for the rest. This trend continues with an overall freshman GPA of 3.41 vs. 3.12, and senior GPAs of 3.46 vs. 3.16, indicating that homeschoolers are better prepared for college."
A recent study entitled College Performance: Homeschooled Vs. Traditional Students, found that "when 732 homeschoolers were compared to the full sample of traditional students, without controlling for any demographics, homeschooled students had, on average, a higher high school GPA, a higher SAT score, and a higher first-year of college GPA. However, they also had a higher socioeconomic status.
However, when the homeschooled students were "compared to a sample of traditionally schooled students with comparable SES profile, high school GPA, and SAT score, homeschooled students appeared to show no differences in their first year of college GPA."
Homeschooled students with highly involved parents or tutors likely get much more one on one time and individual instruction than traditional students. However, the level of support, and the number of resources and opportunities available to a student, might be a better predictor of college GPA, than whether a student is homeschooled.
What Does the Research Say About the Impact on Social Skills of Homeschooled Students?
According to Evidence for Homeschooling: Constitutional Analysis in Light of Social Science Research, "studies demonstrate that homeschooled students are well socialized."
"Several studies found no significant difference in the social skills of homeschooled and non-homeschooled students. Other studies found that homeschooled children score significantly higher on social development rating scales/questionnaires.
For instance, one study using the Vineland Adaptive Behavior Scale, a well-tested diagnostic tool for measuring communication and daily living skills, found that homeschooled students substantially outperformed traditionally schooled students.
The average overall score for the homeschooled children on communication, daily living skills, socialization, and social maturity subscales was at the 84th percentile compared to the 23rd percentile for the traditionally schooled students."
Another study applied a Social Skills Rating System to evaluate thirty-four pairs of homeschooled and traditionally schooled children between the ages of five and eighteen. The researchers found that homeschooled children achieved higher scores on this scale than conventionally educated students.
It is important to consider; however, that these are subjective questionnaires completed by children's parents and it is difficult to determine the validity of parents' views of their own child's social skills. Also, some parents may not have opportunities to observe their child with peers his/her own age and what one family considers "well developed social skills" another may not.
However, when Richard Medlin, PhD, measured students' social skills through direct observations and recorded his findings on the standardized measure known as the Child Behavior Checklist, he had similar findings to the previously discussed studies.
"Dr. Medlin compared the social behavior of a set of seventy homeschooled and seventy traditionally schooled eight to ten-year-olds, matched along demographic and socio-economic lines and found no significant differences between the two groups regarding measures of self-concept and assertiveness."
He actually found that, based on the checklist, non-homeschooled students had more behavior difficulties than homeschooled ones. However, we must account for the fact that the findings are based on Dr. Medlin's interpretations, which, just like the parent ratings, are subjective in nature. Because there is no test to measure social skills, we can only go off of the subjective data of checklists, questionnaires, and observations.
It is interesting to note; however, that when formerly homeschooled college students rated their own characteristics and personality traits through a standardized measure called the NEO Five-Factor Inventory – 3, they were found to be significantly more agreeable, conscientious, and open than the national sample, consisting of predominantly non-home-schooled students.
It is important to remember that traditional schooling is not the only outlet for youth to gain social experiences. Other opportunities may include music or art classes, boy/girl scouts, volunteer work, religious institutions, sports, playdates, etc.
Conclusion
To answer the question, "What does the research say about homeschooling?" Studies show that homeschooled students often outperform traditional students in achievement and social skills, but we must interpret this data carefully by considering variables such as quality of instruction, level of resources and support, social outlets, etc .
There are many other variables likely involved as well, and tools used to measure social skills are subjective in nature. Additionally, one study found that when controlling for demographics, differences in college GPA are not significant.
A parent needs to make up their own mind regarding whether or not to homeschool their child, taking into account their child's needs, their work/financial situation, time constraints, their ability to provide the child with what he/she needs academically, the current data, and their own instincts.
But…the most concrete answer to the question of whether or not homeschooled students will suffer academically or socially is, "The research says 'No.'"
You Might Also Like: Research Facts on Homeschooling by the National Home Education Research Institute.
Video Presentation of Article
Related Article: What is Homeschooling? Is it Right for You?
Education and Behaviorbehavior – a free research-based online library that keeps parents, caregivers, educators, counselors, and therapists on the same page!

If you found this article helpful, please share it!
Books About Homeschooling
Tools for Homeschooling
Rachel Wise is the author and founder of Education and Behavior. Rachel created Education and Behavior in 2014 for adults to have an easy way to access research-based information to support children in the areas of learning, behavior, and social-emotional development. As a survivor of abuse, neglect, and bullying, Rachel slipped through the cracks of her school and community. Education and Behavior hopes to play a role in preventing that from happening to other children. Rachel is also the author of Building Confidence and  Improving Behavior in Children: A Guide for Parents and Teachers.
"Children do best when there is consistency within and across settings (i.e., home, school, community). Education and Behavior allows us to maintain that consistency."