[widget id="bcn_widget-2"]
Super Mario First Aid Game: Help Mario Treat His Scraped Knee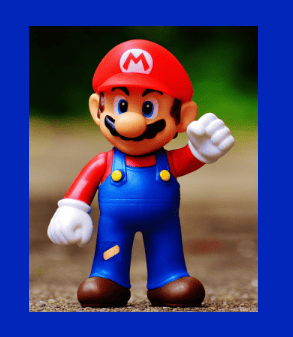 See paper/cut-out version at bottom of post.
Video Tutorial
Practical Application: Bringing First Aid to Life
ALWAYS PROVIDE ADULT SUPERVISION TO ENSURE SAFETY
Teach students how to help with minor wounds, like knee scrapes, using real items such as mild soap, a towel, antibiotic ointment, and a Band-Aid. They can practice on themselves, a doll, or another object to improve their skills and gain more confidence.
Step-by-Step Guidance
Guide your child or student through the process of providing first aid for a scraped knee.
Clean the wound:

Wash hands thoroughly with mild soap and warm water.
Rinse the scraped knee with clean water, gently removing any dirt or debris.
Pat the knee dry with a clean towel by gently blotting the area. Ensure it is completely dry before proceeding.

Apply antibiotic ointment:

Squeeze a small amount of antibiotic ointment onto your fingertip.
Carefully apply the ointment around the scraped knee, avoiding direct contact with an open wound.

Cover with a Band-Aid:

Peel off the backing of the band-aid to reveal the sticky side.
Place the band-aid over the scraped knee, positioning the padding portion directly over the wound.
Ensure the Band-Aid fully covers the wound. If needed, use more than one band-aid.
Press down gently on the band-aid to secure it in place. Avoid applying direct pressure onto the wound itself.
Academic Engagement
In this first aid activity, individuals have the chance to improve their academic skills through tasks such as reading labels and counting objects.
Participants also gain knowledge on how to follow instructions, understand sequential order, maintain focus, and successfully finish tasks.
Social-Skill Building
Engaging in the practical application and academic engagement of this first aid activity can also foster the development of social skills. Through cooperative participation, individuals build communication and problem-solving skills, while practicing self-care.
Students can also practice empathy while they care for a "pretend wound" on a stuffed animal, a doll, etc.
Research-Based Support
Research has shown the benefits of hands-on and visual learning for all students, including those with diverse learning needs. Here are some research articles that support the effectiveness of these approaches:
Super Mario First Aid File Folder Activity
Rachel Wise is the author and founder of Education and Behavior. Rachel created Education and Behavior in 2014 for adults to have an easy way to access research-based information to support children in the areas of learning, behavior, and social-emotional development. As a survivor of abuse, neglect, and bullying, Rachel slipped through the cracks of her school and community. Education and Behavior hopes to play a role in preventing that from happening to other children. Rachel is also the author of Building Confidence and  Improving Behavior in Children: A Guide for Parents and Teachers.
"Children do best when there is consistency within and across settings (i.e., home, school, community). Education and Behavior allows us to maintain that consistency."