10 Fun Reading Board Games for Kids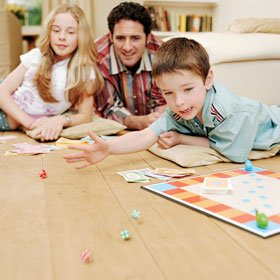 Below you will find ten fun reading board games to help your children practice their reading skills, and learn to read. Some reading card games are listed as well.
These fun reading board games are a great way to foster your children's/students' phonics, sight-word, vocabulary, and fluency skills (all important elements of becoming an effective reader).
For students who are struggling or just learning, an adult should play with the child/children, providing assistance as needed. Children who are more independent with their reading skills often love playing these fun board games with each other.
Research demonstrates the benefits of applying a multi-sensory approach to reading instruction. A multi-sensory approach incorporates the senses such as sight, sound, and touch into instruction. This allows students to take in learning through a variety of modes, and it is more engaging than the standard approach to teaching.
You Might Also Like: Reading with TLC: A Fun Research-Based Hands-on Program that Helps Children Learn to Read (Great for Students Who Have Trouble Learning to Read Through Traditional Approaches)
10 Fun Games To Help Children with Reading
For 2 to 4 players. Ages 5+
In Pop For Sight Words Game children will gain foundational reading skills as they recognize and read aloud sight words. This fast-paced game is great for improving fluency and vocabulary.
Players keep piling up the kernels, when they read the words correctly (Adults can provide assistance and slowly fade it out as children's skills improve). Pull a POP kernel, and all your pieces go back!
Sight words are high-frequency words that are crucial for reading fluency. Make sight-word practice as much fun as possible with this popular Pop for Sight Words game!
Basic game-play instructions are printed on the box—but look for ways to put your own twist on things! For example, decide on a silly activity that everyone has to perform when you pull a POP kernel. Or, challenge children by asking them to read the word and use it in a sentence. The options are endless.
2 to 4 players. Ages 6+
In POP for Word Families Card Game children pull out a popcorn piece and create a word with that ending. A POP kernel means all your pieces go back. Start with 2-letter endings, then move up to 3-letter endings and rhyming practice (adults support and guidance as needed). Includes 92 word family cards, 8 POP cards, spinner and guide (printed on box).
Up to six players. Ages 5+
What's Gnu is a great way for younger players to practice their word recognition and spelling skills, while building confidence. Players slide the "Letter Getter" forward to reveal two letter tiles, and then use them to create three-letter words by filling in the blanks on their Word-Starter cards. You can play with your child or a group of children providing support as needed.
4. Learning Resources Snap It Up! Phonics:Word Families
2 or more players. Ages 6+
Snap It Up! Phonics:Word Families is an exciting, fast-paced card game provides kids with hard-hitting practice in reading skills! Players pick and pass cards as fast as they can to spell words. It's fast! It's crazy! And it's so much fun, kids will want to snap it up again and again! Each game includes 90 cards (adults provide guidance as needed-play with your kids so they get the hang of it).
Ages 5+
In Sight Words Bingo Flash Cards children practice reading 46 words from common vocabulary lists. The unique, 6-way format adapts to a variety of skill levels and is a fun learning supplement for small groups or the entire class. Also ideal for learners with disabilities and anyone learning English. Set includes 36 playing cards, 264 playing chips, caller's mat and cards and a sturdy storage box.
2 to 8 players. Ages 6+
Spot It! Basic English boosts learning and reading while having fun. The 55 cards in this game feature universal images and words for emergent readers, including sight words. There is always one, and only one, matching symbol between any two cards. Spot it to win!
The match may be between a word and its corresponding picture, between two pictures, or between two words. While the repetition solidifies word recognition, the pictures support reading comprehension. There are three ways to play with different challenge levels. The rule booklet also includes tips for advanced play.
In a tiny durable tin, this game is easy to toss in a backpack and take to school, back home, and on trips.
Spot it! Basic English is an ideal classroom activity and kids can play at home to practice reading skills with family members.
2 to 6 players. Ages 5+
Zingo Word Builder Board Game allows children to build reading skills, three letters at a time. This game is the perfect confidence booster for early readers. Ideal for players who are just learning how to put letters together to form words, it's great for teaching spelling and vocabulary. With two levels of play, it's designed to engage and support both beginner and more experienced readers (provide adult support as needed). Just slide the Zinger and pick tiles to fill your Zingo card with three letter words.
Zingo! Sight Words brings young children the fun of the classic game of bingo while they learn to recognize sight words. Players learn to quickly read important, commonly used words that don't always "sound out" easily.
The interactive Zinger! machine lets your child slide the dispenser to release two word tiles, recognize and read the words, then see if the words match the squares on their word card. The first player to fill all the squares on their card with tiles is the winner.
Zingo! Sight Words is different than other Bingo type sight word games because the cards give visual hints to help children who are still learning to read the words.
2 to 4 players. Ages 4+
Er-u-di-tion, an award winning educational board game, jump-starts the road to reading by incorporating over 300 sight words and the letters of the alphabet in an enjoyable, engaging activity. The game takes emergent readers on a fun adventure through literacy land, complete with common landmarks and street signs. They earn a bonus roll after correctly identifying a game card. The first player to reach the library is the winner!
Players of all reading levels may participate, because they choose from one of four game cards: blue game cards – upper & lower case letters, green game cards – beginner level sight words, yellow game cards – intermediate level sight words, red game cards – advanced level sight words (as always, provide adult support as needed).
The blue cards also contain two words that emphasize that letter's fundamental phonic sound. The sight word game cards divide words into syllables and give simple definitions to assist in word pronunciation and reading comprehension. Through repetitive interaction with basic phonic sounds, sight words and their definitions, emergent readers enhance their reading skills while playing a fun game.
2 to 4 players. Ages 4+
This game teaches consonants, vowels, and three-letter and four-letter words (provide adult support as needed). The teaching methods are based on evidence-based strategies such as teaching phonemic awareness and assessing skills with nonsense words.
Comment below and let us know what you think of these fun reading board games for kids! Share some other games with us as well!
You may also wish to review the following reading programs, geared towards younger students, and developed from research-based practices:
You might also like the articles:
Effective Program Helps Young Children Learn to Read
8 Highest-Rated Board Games for Kids to Practice Addition and Subtraction
Thank you for visiting educationandbehavior.com. A free resource for parents, educators, and counselors! Browse our topics from the navigation bar above! Receive our updates on Facebook!
More Great Board Games to Practice Reading with Kids

Rachel Wise is a certified school psychologist and licensed behavior specialist with a Master's Degree in Education. She is also the head author and CEO at educationandbehavior.com, a site for parents, caregivers, educators, counselors, and therapists to find effective, research-based strategies that work for children. Rachel has been working with individuals with academic and behavioral needs for over 20 years and has a passion for making a positive difference in the lives of children and the adults who support them. For Rachel's top behavioral strategies all in one place, check out her book, Building Confidence and Improving Behavior in Children, a Guide for Parents and Teachers. If you want Rachel to write for your business, offer behavioral or academic consultation, or speak at your facility about research-based strategies that support children, email her at rachelwise@educationandbehvior.com.