[widget id="bcn_widget-2"]
Try Any of These 10 Fun Reading Board Games for Kids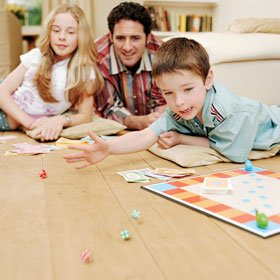 Are reading board games effective?
Reading board games (and card games) are a fun and effective way to foster children's sight-word knowledge, vocabulary development, and fluency skills (all important elements of becoming a solid reader).
What does the research say about teaching reading with games?
Research indicates that utilizing board games to teach reading leads to improved skills for students with learning disabilities.
Additionnally, when we use games, we create a multi-sensory approach that incorporates more than one sense at a time (e.g., sight, touch, and sound).
Research supports the practice of applying a multi-sensory approach to reading instruction.
A multi-sensory approach allows students to take in learning through a variety of modalities, which is more engaging for many than the standard approach to teaching reading.
You Might Also Like: Reading with TLC: A Fun Research-Based Hands-on Program that Helps Children Learn to Read (Great for Students Who Have Trouble Learning to Read Through Traditional Approaches)
Try Any of These 10 Fun Reading Games with Your Children
For students who are struggling or just learning, an adult should play as well, providing assistance if needed. Children who are more independent with their reading skills can play these fun games together
1. Learning Resources Pop For Sight Words Game
For 2 to 4 players. Ages 5+
In the Pop For Sight Words Game children will gain foundational reading skills as they recognize and read aloud sight-words. This fast-paced game is great for improving fluency and vocabulary.
Players keep piling up the kernels, when they read the words correctly (Adults can provide assistance and slowly fade it out as children's skills improve). Pull a POP kernel, and all your pieces go back!
Sight words are high-frequency words that are crucial for reading fluency. Make sight-word practice as much fun as possible with this popular Pop for Sight Words game!
Basic game-play instructions are printed on the box—but look for ways to put your own twist on things!
For example, decide on a silly activity that everyone has to perform when you pull a POP kernel. Or, challenge children by asking them to read the word and use it in a sentence. The options are endless.
2. Learning Resources POP for Word Families Card Game
2 to 4 players. Ages 6+
In POP for Word Families Card Game, children pull out a popcorn piece and create a word with that ending. A POP kernel means all your pieces go back.
Start with 2-letter endings, then move up to 3-letter endings and rhyming practice (adults support and provide guidance as needed).
Includes 92 word family cards, 8 POP cards, spinner and guide (printed on box).
3. Zingo Sight Words
Up to six players. Ages 4+
Zingo Sight Words is a fun pre-reading game that teaches children to recognize sight words. The activities are designed to be fun and engaging.
Similar to the game Bingo, students match chips to the correct squares. However, there are visual cues for those still learning to recognize words.
In addition to helping children learn to read, Zingo Sight Words can improve language skills and encourage critical thinking,
4. Learning Resources Snap It Up! Phonics: Word Families
2 or more players. Ages 6+
Snap It Up! Phonics:Word Families is an exciting, fast-paced card game that provides kids with a lot of reading practice.
Players pick and pass cards as quickly as they can to spell words.
Each game includes 90 cards (adults provide guidance as needed-play with your kids, so they get the hang of it).
5. Trend Enterprises Sight Words Bingo Flash Cards
3 players, Ages 5+
In the Sight Words Bingo Flash Cards game, players practice reading 46 words from common vocabulary lists.
The unique, six-way format adapts to a variety of skill levels and is a fun learning supplement for small groups or the entire class.
It is also ideal for learners with disabilities and anyone learning English.
Set includes 36 playing cards, 264 playing chips, caller's mat and cards, and a storage box.
6. The Sentence Building Game
2 to 4 players. Ages 5+
The Sentence Building Game includes familiar sight words, photos and common punctuation on interlocking cards.
Players use the cards to build sentences, teach grammar and practice reading all in one activity.
The 86-card set includes 55 word cards, color-coded by parts of speech (i.e., nouns, pronouns, adjectives, verbs, adverbs, prepositions, and punctuation puzzle cards).
27 photo cards, and 4 punctuation cards are included as well.
The set comes with fun and engaging activities to build vocabulary, increase fluency and teach punctuation and grammar both in and out of school.
You May Also Like the Book: The Wizard of Oz Vocabulary Builder for Teens and Adults
7. Zingo Word Builder Board Game
2 to 6 players. Ages 5+
Zingo Word Builder Board Game allows children to build reading skills, three letters at a time. This game is the perfect confidence booster for early readers.
Slide the Zinger and pick tiles to fill your Zingo card with three-letter words.
Zingo Word Builder helps children work on reading, vocabulary, and spelling skills.
It is designed to engage and support beginning and more experienced readers, as there are two different levels of play (provide adult support as needed).
9. My First Bananagrams
1 to 4 players. Ages 4+
My First Bananagrams, a game for pre-readers and early learners, uses lowercase letters to make word games. The game also includes some combo-letter tiles (e.g., ch, ee, qu).
10. Sight Word Swat
1 to 4 players, Ages 5+
Sight Word Swat encourages kids to discover the 220 most commonly used sight words.
One person calls out a sight word. Players have to the spot sight words and then swat them, in order to capture as many "flies" as they can.
To reduce frustration, assist children who have trouble finding words. You can also reduce the number of words in the pile or make separate piles for different students.
You might also like:
Effective Program Helps Young Children Learn to Read
8 Highest-Rated Board Games for Kids to Practice Addition and Subtraction
Education and Behavior – Keeping Adults on the Same Page for Kids!
Rachel Wise is the author and founder of Education and Behavior. Rachel created Education and Behavior in 2014 for adults to have an easy way to access research-based information to support children in the areas of learning, behavior, and social-emotional development. As a survivor of abuse, neglect, and bullying, Rachel slipped through the cracks of her school and community. Education and Behavior hopes to play a role in preventing that from happening to other children. Rachel is also the author of Building Confidence and  Improving Behavior in Children: A Guide for Parents and Teachers.
"Children do best when there is consistency within and across settings (i.e., home, school, community). Education and Behavior allows us to maintain that consistency."