[widget id="bcn_widget-2"]
Four Beneficial Ways Physical Activity Affects Child Development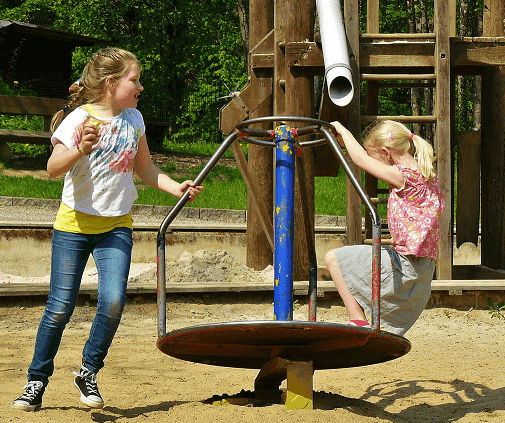 Sponsored Post
Research supports the notion that physical activity affects several areas of child development in a positive way. Exercise helps children develop both mentally and physically. When children do not get the proper exercise they need, they have an increased likelihood of developing unfavorable health conditions in the future as well.
Whether your child likes playing hopscotch or tag, incorporating movement into the daily routine is essential. In this article, we will discuss four ways that physical activity greatly benefits children.
Four Beneficial Ways Physical Activity Affects Child Development
1. Practicing Socialization Skills
Often, when kids are exercising, they are in the company of others. When kids begin playing with other people, they naturally become aware of social cues. Based on the reactions they receive from other people, they can naturally become aware of the ways they are being too passive, too aggressive, etc. In addition, they can learn to communicate when they have frustrations towards others. When kids become more advanced in their physical skills, they will gain a sense of confidence that will enable them to perform well in social settings.
2. Developing Resiliency
Whether you are an adult or a child, working out teaches resiliency. We are likely never going to be the world's best soccer player, nor will we hold the world record for highest number of push-ups in a row. As you continue to succeed and fail in working out, you will learn how to be resilient while continuing to push through in difficult circumstances. Resiliency is an important skill because it is required when difficult life circumstances come your way. Thankfully, if you get injured in a freak accident while on a public running course or in a gymnasium setting, you can determine if you will be pursuing a personal injury lawsuit. Both children and adults need to know they will be protected and insured if they are harmed while exercising in a public forum.
3. Maintaining Physical Health
Almost 3 million people die each year as a result of obesity. This is a staggering statistic. When you begin investing in your physical health at a young age, you will likely value this positive habit for years to come. Maintaining a positive exercise regimen allows children to invest in the development of their heart, lungs, bones, joints, and brain. The strength of these physical attributes will help to decrease the risk of chronic disease and severe illnesses in the future. In addition, active individuals are less likely to suffer from broken bones and defective ligaments.
You May Also Like: Three Research-Based Reasons Physical Education is Needed in Schools
4. Improving Mental Health
In addition to lifespan, physically active children are likely to have an openness to experiences, a positive outlook, and an increased motivation throughout their entire livelihood. As children age, a positive body image will increase their self-assurance, confidence, and happiness. Children who are active are less likely to suffer from depression in years to come.
Summary
There are several beneficial effects of physical activity on child development; including improved social-emotional and physical health.
When your children are young, help them learn the forms of exercise they enjoy.
Some Exercise/Activity Ideas for Kids:
More Great Reasons for Children to Get Regular Physical Activity
You May Also Like:
Education and Behavior – A Research-Based Library the Support Children, Keeping Parents, Caregivers, Educators, and Counselors on the Same Page.
This article was reviewed, edited, and approved by Rachel Wise, CEO of Education and Behavior.
Physical Activity Ideas for Kids
Rachel Wise is the author and founder of Education and Behavior. Rachel created Education and Behavior in 2014 for adults to have an easy way to access research-based information to support children in the areas of learning, behavior, and social-emotional development. As a survivor of abuse, neglect, and bullying, Rachel slipped through the cracks of her school and community. Education and Behavior hopes to play a role in preventing that from happening to other children. Rachel is also the author of Building Confidence and  Improving Behavior in Children: A Guide for Parents and Teachers.
"Children do best when there is consistency within and across settings (i.e., home, school, community). Education and Behavior allows us to maintain that consistency."