Check Out These 10 Great Educational Songs for Kids (Ages 3 to 8)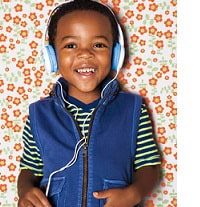 Why Should We Play Educational Songs for Elementary School Students or Young Children?
Music is a great way to get kids excited about learning. Music also helps children remember what they learn. A catchy tune with easy-to-remember lyrics will leave a lasting impression and help to in-grain educational concepts into a child's memory.
Related: Amazon Music Unlimited Has Hundreds of Songs for Kids to Choose From (Sponsored Link)
Learning can be fun when you watch these music videos with your child or students.
Once they have learned the songs, enjoy singing them any time for an enjoyable activity you can do together.
You can find hundreds of songs on YouTube to teach kids about educational concepts. The ones below are my personal favorites.
10 Educational Songs for Elementary School Students
1.The Solar System Song by Kidstv123.
This song has a mellow sound and a calming effect. The lyrics are easy to remember and fun to sing.
The first line gives information about what the sun is and how it helps us. Then all the planets are named in order with interesting facts about each planet.
Related Post: 5 Great Music Videos About Science for Kids: K to 3rd Grade
2. Count By 5's Song by Mr. R's Songs for Teaching
This upbeat song makes you want to sing along as you count by fives. There are plenty of visuals and tricks to help your kids understand the counting by fives concept.
3. Nouns Rock by School Rocks Videos.
This catchy little tune is fun to sing along to. The song gives so many examples of nouns to help your child understand what a noun is. There are fun, colorful pictures to help your child in-grain the concept of a noun into memory.
4. 50 States that Rhyme by Raggs.
This song makes you want to sing the 50 states! It is so fun to sing along to the tune of "Do Your Ears Hang Low." The states are listed in alphabetical order making them even easier to remember.
5. What's the Time by Kidstv123.
This is another fun tune to sing along to. This song teaches digital and analog time. Kids will learn time in hour, half hour, and 15 minute increments. There are plenty of visuals to help them understand the concepts.
6. The Measurement Song by Kidstv123.
This song is really sung with feeling. I almost feel emotional when I listen to this tune about measurements. It teaches about centimeters, meters, kilometers, inches, feet, yards, miles, pints, gallons, and more. Pictures and numbers are shown along the way so children can visualize the measurements as they learn them.
7. The Nations of the World by Animaniacs.
This catchy song lists the countries of the world and groups them together according to which continent they belong to. Each country lights up when named. This song really helps children understand where countries are in relation to one another. A great geography lesson.
8. The Sentence Song by Scratch Garden.
This short little tune gives great examples of how to use periods, question marks, and exclamation points. There is some funky guitar in the background as well.
I had this song playing in my head long after I heard it. It also has great visuals to reinforce the concepts.
9. The Big Numbers Song by Kidstv123.
This calming song, with an easy-to-remember tune, teaches your kids about numbers from zero to one trillion. Great visuals and easy to sing along to.
10. Silent "e" by the Electric Company.
This is a fun way for kids to learn about the silent "e." The song is upbeat. The singer is a friendly teacher with a lot of kids around him excited to learn about the silent "e."
There are many examples with visuals included. You and your kids will have fun singing and dancing to this educational tune.
Education and Behavior – a free resource for parents/caregivers, educators, and counselors! Keeping us all on the same page!
More Educational Songs for Kids
Rachel Wise is a certified school psychologist and licensed behavior specialist with a Master's Degree in Education. She is also the head author and CEO at educationandbehavior.com, a site for parents, caregivers, educators, counselors, and therapists to find effective, research-based strategies that work for children. Rachel has been working with individuals with academic and behavioral needs for over 20 years and has a passion for making a positive difference in the lives of children and the adults who support them. For Rachel's top behavioral strategies all in one place, check out her book, Building Confidence and Improving Behavior in Children, a Guide for Parents and Teachers. If you want Rachel to write for your business, offer behavioral or academic consultation, or speak at your facility about research-based strategies that support children, email her at rachelwise@educationandbehvior.com.