[widget id="bcn_widget-2"]
10 Great Books to Teach Social Skills to Children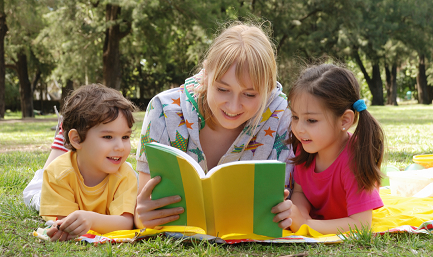 Research conducted by the University of Illinois and the University of Wisconsin indicates that reading stories with children is an effective method for teaching social-emotional skills.
Additional research, conducted by McCulliss and Chamberlain in 2013, suggests that using books therapeutically (bibliotherapy), in classrooms, helps foster healthy social-emotional growth in children.
Children participating in bibliotherapy are able to develop insight, a deeper understanding of self, solutions to personal problems, enhanced self-image, or development of life skills.
10 of the Best Books to Teach Social Skills to Children
What Should Danny Do? is an interactive book with nine stories in one, that helps kids understand how their choices affect their lives.
Written in a "Choose Your Own Story" style, the book follows a Superhero-in-Training named Danny, through his day as he encounters choices that kids face daily.
As your child navigates through the different storylines, they will begin to realize that their choices for Danny shaped his day into what it became.
And in turn, their choices for themselves will shape their days, and ultimately their lives, into what they will be.
Kids love and relate to Danny, while enjoying the interactive nature of the book. They also never know what will come next!
Parents and Teachers love the social-emotional skills the book teaches through empowering kids to make positive choices while demonstrating the natural consequences to negative choices.
In, What Should Danny Do? School Day , Danny is back for a new adventure in this book of eight stories in one! Your child gets to decide how Danny's school day will end in this interactive story!
Children love being able to make all the choices for Danny and control the outcome of the book, while learning lessons along the way!
Social Skills Activities for Kids allows children to build confidence and practice their skills in the areas of making conversation, learning to compromise, and using manners.
Social Skills Activities for Kids includes:
Life Lessons―Kids learn how to handle everyday situations like using and interpreting body language, reading social cues, and communicating with peers and adults
50 Interactive Activities―Games, fill-in-the-blank activities, and reflective entries keep kids learning and engaged.
Real Scenarios―Includes current topics like bullying and social media use
Social Rules for Kids-The Top 100 Social Rules Kids Need to Succeed helps facilitate communication between parent and child by addressing 100 social rules for home, school, and the community.
Some of the topics covered include body language, manners, & feelings.
Reading this book helps make students' lives easier and more successful by giving rules for how to interact with others daily.
Growing Friendships: A Kids' Guide to Making and Keeping Friends helps children learn how to handle real-life situations that can cause social challenges or barriers.
Some examples of topics covered include arguing with a friend, getting teased, and trying to find a buddy in a new classroom.
Growing Friendships is a toolkit for both girls & boys as they make sense of the social world around them.
The Survival Guide for Kids with Behavior Challenges: How to Make Good Choices and Stay Out of Trouble is the first book written for kids with behavior challenges, aimed to help them make good behavior choices and get along better with others.
Some examples of topics covered include building self-esteem, handling feelings, and making and keeping friends.
Social Skills Matter!, Grades PK – 2: Social Narrative Mini-Books help students learn how to communicate effectively, make good choices, and practice appropriate behavior!
The book includes over 80 reproducible mini-books that children can assemble, color, read, and make their own.
Each mini-book focuses on a different lesson of important social skills such as cooperative play, learning about feelings, communication, school-day behavior, manners, & managing one's own behavior.
Multisensory activities are used to teach skills through auditory, visual, and tactile senses.
Learning to cope with stress, anxiety and anger are important skills, but not all children learn these strategies naturally.
The Coping Skills for Kids Workbook helps teach children ways to calm down when stressed or upset, balance their emotions with their energy, and process challenging feelings.
There are over 75 innovative, fun and engaging activities for children to complete with a trusted adult.
In Personal Space Camp, children learn all about the concept and importance of personal space.
A little boy named Louis, who believes he is a space expert, is excited to learn that his teacher has sent him to the principal's office to attend personal space camp.
Louis is looking forward to learning more about lunar landings, space suits, and other cosmic concepts; however, he soon finds that he will be learning all about personal space.
This story is a great resource for parents, teachers, and counselors who want to explain personal space in a manner that connects with kids.
Having a pet dragon can be so fun, but what do you do if he gets angry or upset? What if your dragon lost his cool and wants to burn everything up?!
Train Your Angry Dragon: Teach Your Dragon To Be Patient teaches children how to train their angry dragon while learning all about emotions, anger management and how to handle it when things don't go their way.
Have you read any of our choices for the best books to teach social skills to children? What did you think? Share your thoughts with us!
You May Also Like: The Personal Space Cat Detective Game
Education and Behavior – A Free Online Library of Research-Based Strategies that Work for Kids
Great Social Skills Games
Recommended Articles:
5 Great Activities to Do with Your Social Skills Group
5 Great Activities to Do with Your Social Skills Group (Adolescents/Teens)
8 Fun Activities for Practicing Social Skills with Your Child
5 Great Books to Teach Young Children About Empathy
Rachel Wise is the author and founder of Education and Behavior. Rachel created Education and Behavior in 2014 for adults to have an easy way to access research-based information to support children in the areas of learning, behavior, and social-emotional development. As a survivor of abuse, neglect, and bullying, Rachel slipped through the cracks of her school and community. Education and Behavior hopes to play a role in preventing that from happening to other children. Rachel is also the author of Building Confidence and  Improving Behavior in Children: A Guide for Parents and Teachers.
"Children do best when there is consistency within and across settings (i.e., home, school, community). Education and Behavior allows us to maintain that consistency."