The Benefits of Teaching Coding to Elementary School Students (Resources Included)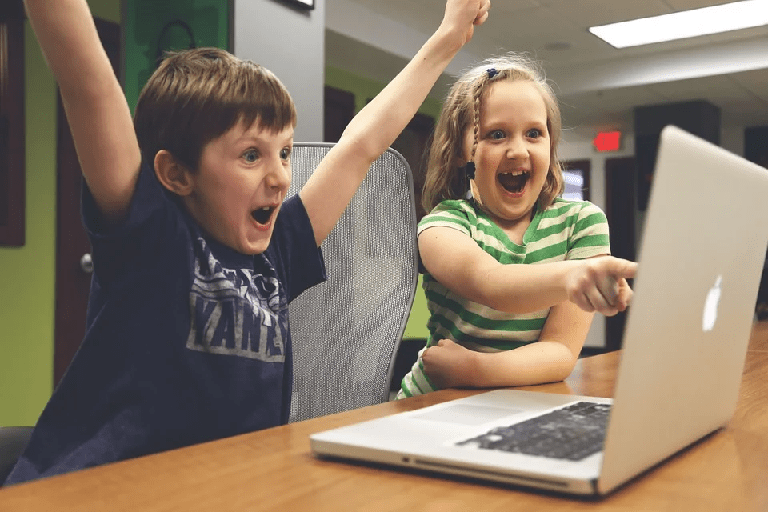 Research indicates that teaching coding to elementary school students leads to improvements in engagement, academics, and behavior. Many parents, teachers, and students alike have indicated that they are pleased with the impact of coding programs on students in the elementary grades.
According to Stephen Hawking, "Whether you want to uncover the secret of the universe, or you want to pursue a career in the 21st century, basic computer programming is an essential skill to learn."
We are living in a digital age where most, if not all people we know have computers, tablets, smart phones, etc . Having access to and learning about technology is essential for every student. As technology, which involves coding and program, is now woven into the fabric of our everyday lives, it only makes to teach coding, an undeniably beneficial skill for the future.
One can start learning it at an early stage of their lives. Coding helps develop the minds of children—they can think of solutions, new ideas, and they are also able to understand that it's okay to fail, as long as one learns from it and keeps on trying until they get it right.
Coding may seem complex, but it has been made easier for children. Drag and drop apps like Microsoft's Kudo, Scratch, and Hopscotch have been created to make coding fun and easy for children. These apps still give the same end product as writing codes; they help children understand how programs work while introducing them to code writing.
Scratch Video
There are great resources to use for teaching coding:
Scratch: Resnick and his team at MIT created Scratch to help students think systematically, creatively, and work in collaboration. Teachers are able to create an account for the classroom. Scratch is for students age 8 and above; students need to have the ability to read.
MIT app inventor: This is a more advanced tool for coding, which is for students in grades 7 and above. However, this app and anything created with the MIT app inventor can be used only on Androids.
Code studio: This is a less creative coding tool that is for students age 4 and above. Students can learn the basics of coding as well as learn computer science through online courses.
Coding workbooks: Coding workbooks are fun and an easy way to engage young minds to learn coding and solve math problems, which can boost their critical thinking skills.
5 Benefits of Teaching Coding to Elementary Age Students:
1.   Coding teaches children how to be problem solvers
Writing code, creating web pages, and creating simple games using apps like Kudo will help children solve problems, which, in turn, will improve the way they solve problems outside coding. This helps children see problems as a situation to correct, and not a STOP sign. This also helps children to improve on what has already been done because they do not fear failure.
2.   Coding makes children learn to think
"Computer programming isn't just about teaching how to type lines of code; it is more about teaching children how to think differently." To code effectively, one needs to use logical thinking. Children need to be able to see a large problem and break it down into smaller pieces in order to solve it in an effective manner, which is called decomposition. They need to be able to strengthen their brain and think of a way out, even through failures.
3.   Coding expands a child's creativity
When children learn how to code, it gives them the opportunity to be confident and create something in a fun in a new and exciting way.
4.   Coding improves students' academics
Coding helps students learn how to plan and be organized—this can help improve skills in writing and general planning of assignments. Learning to code also requires students to apply math in their daily activities, naturally enhancing their math skills. They must know how to calculate, and solve easy or difficult problems.
5.   Programming is the future
The world is advancing, and coding is a useful skill to have. There are a lot of business sectors relying on coding. Computer coding is not only done for the technology sectors but also for finance, health, and other niches. When children learn how to code, they have an advantage in the future—they have the ability to work in any sector, and they will have more career opportunities in the future.
This post was sponsored by edhelper.com, and edited and approved by Education and Behavior.
Education and Behavior is a free research-based online library to help parents, caregivers, teachers, counselors, and therapists stay on the same page when supporting our most precious gift, our children!
You May Also Like:
Coding/Stem Activities for Elementary Students
Rachel Wise is a certified school psychologist and licensed behavior specialist with a Master's Degree in Education. She is also the head author and CEO at educationandbehavior.com, a site for parents, caregivers, educators, counselors, and therapists to find effective, research-based strategies that work for children. Rachel has been working with individuals with academic and behavioral needs for over 20 years and has a passion for making a positive difference in the lives of children and the adults who support them. For Rachel's top behavioral strategies all in one place, check out her book, Building Confidence and Improving Behavior in Children, a Guide for Parents and Teachers. If you want Rachel to write for your business, offer behavioral or academic consultation, or speak at your facility about research-based strategies that support children, email her at rachelwise@educationandbehvior.com.