Sample After-School Visual Schedule for Kids with Sensory Needs or Impulsive/Hyperactive Behaviors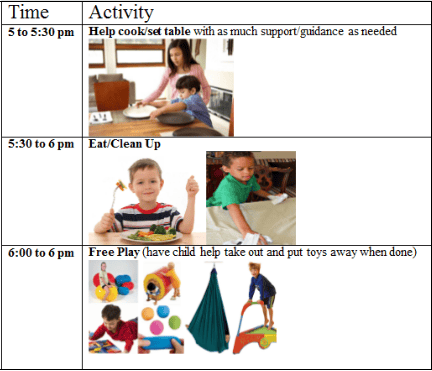 Why Should We Use Schedules?
If you have read some of my other articles on behavior then you know that I am a big advocate of using schedules with children to increase confidence, cooperation, and accountability; and to reduce tantrums and frustration.
Schedules can be used daily or just to help a child understand what will happen over the next few hours. Schedules help children understand how upcoming time and events will unfold.
When children do not know what to anticipate they may feel anxious and become more resistant to change. Imagine how you would feel if you didn't know what might happen next or if you were doing something you love and somebody abruptly told you to do something else that you don't even like.
In my 20+ years of experience working with individuals with behavioral challenges, I consistently see the same thing over and over-frustration and resistance to adult direction when changes come suddenly and without warning.
Research indicates the benefits of using schedules for children diagnosed with autism and the US Department of Education indicates that using an activity schedule is best practice when working with students diagnosed with Attention Deficit Hyperactivity Disorder.
Additionally, working with individuals with behavioral challenges over the past 20+ years, has consistently shown me the benefits of providing structure and schedules to improve behavior.
Related Article: Try These 15 Behavior Strategies for Children on the Autism Spectrum
Some Information Before I Present the Visual Schedule
Research demonstrates the benefits of exercise for children with aggression, hyperactivity, and focusing difficulties and occupational therapists consistently recommend sensory input and stimulation for children who often seek to feel textures or move their body. Therefore exercise and sensory stimulation are included in the sample 'after school' visual schedule below.
The sample schedule is presented as an image but here is a link to download it as a Word Document so you can change and manipulate it to make it your own.
The schedule is broken into four mini schedules as some children become overwhelmed when they see too many steps in front of them. This schedule was made with children with sensory needs or impulsive/hyperactive behaviors in mind, but really any child can benefit from this type of schedule.
Free Visual Schedule for ADHD, Autism, Sensory Needs, Etc.
If you are concerned about your child's ability to take in sensory input, it is important to work with an occupational therapist (OT) to determine the best activities for your child.
Contact your pediatrician or insurance provider for a referral to an OT. You can also request that your child gets an OT evaluation at school to assist with sensory concerns there as well. As always, any concerns about your child's development should be discussed with your pediatrician.
For more information such as how to transition effectively between steps in the schedule and how to incorporate homework into the schedule see:
Additional Information About Using Visual Schedules
Once children learn to utilize and become familiar with a schedule, they often start taking accountability on their own, following the steps without being reminded (although every child is different and some may always need assistance or reminders to go through their schedule).
Remember that if everything doesn't go according to plan it is okay. It won't be perfect, so just try your best! Schedules can be similar from day to day or vary depending on what is going on that day (e.g., if you are going out the schedule would change).
You can easily recreate new schedules each day by using a white board (and writing/drawing the steps) or by using a laminated picture schedule with interchangeable pictures.
You can laminate the schedule at an office supply store or purchase your own laminator and use Velcro.
To make the pictures removable (take off a picture after you complete each step) such as in the portable schedule in the picture below.
If you want to laminate but not make the pictures removable, you can have your child use a dry erase marker to cross out or check off the steps as he/she completes them.
FYI: You can take your own photographs or find dozens of pictures on Google Images (e.g., go to Google Images and type "child brushing teeth" and variety of images depicting that action will come up).
IPADs and other tablets also have apps to make picture schedules such as Choiceworks which allows you to make a schedule and add choices of activities at the bottom.
See below:
Have questions about how to make or use a picture schedule? Contact us!
Education and Behavior – An Online Library of Research-Based Strategies to Keep Parents, Caregivers, Educators, Counselors, and Therapists, on the same page!
Tools You Might Like to Make Visual Schedules
Rachel Wise is a certified school psychologist and licensed behavior specialist with a Master's Degree in Education. She is also the head author and CEO at educationandbehavior.com, a site for parents, caregivers, educators, counselors, and therapists to find effective, research-based strategies that work for children. Rachel has been working with individuals with academic and behavioral needs for over 20 years and has a passion for making a positive difference in the lives of children and the adults who support them. For Rachel's top behavioral strategies all in one place, check out her book, Building Confidence and Improving Behavior in Children, a Guide for Parents and Teachers. If you want Rachel to write for your business, offer behavioral or academic consultation, or speak at your facility about research-based strategies that support children, email her at rachelwise@educationandbehvior.com.