[widget id="bcn_widget-2"]
5 Benefits of Using Games in Teaching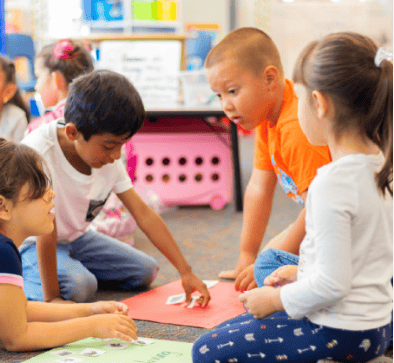 Research indicates that using games in teaching increases student engagement and motivation. When students are excited and involved while learning, they are more likely to retain the skills and knowledge taught.
5 Benefits of Teaching with Educational Games
1. Games can be motivating and engaging for students due to their interactive nature.
Games allow teachers to provide an exciting learning environment that encourages youth to actively participate in their lessons.
Board games, card games, computer games, game-show style games, and other similar formats can be utilized to engage a wide variety of students.
Additionally, research supports the use of an interactive approach and/or hands-on approach to learning, which is naturally part of structured gameplay.
2. Games lead to improved student learning outcomes.
Games provide immediate feedback, scaffolding (manageable sections or chunks), and multiple opportunities for practice. These methods effectively assist students in remembering information and retaining concepts.
Games can also be designed to align with learning objectives and help students acquire new knowledge and skills. For instance, Tang Math provides online games to help students acquire the expected skills at each grade level.
3. Games promote critical thinking and problem-solving skills.
Games generally require players to use critical thinking (i.e., the evaluation and assessment of a situation), problem-solving, and decision-making skills to progress through levels and overcome challenges.
These skills are highly valued in many career fields and can be transferred to real-world situations.
4. Games facilitate social interactions and collaboration.
Multiplayer games provide opportunities for students to work together, communicate, and develop social skills.
These interactions can improve their ability to collaborate, communicate, and solve problems in group settings.
5. Games are effective among a wide range of ages and ability levels, across various subjects.
Games can be adapted to different age groups and skill levels, making them flexible for teaching. Teachers utilize games in math, science, social studies, language arts, foreign languages, and more.
Conclusion
Overall, research suggests that games can be highly effective for teaching and learning, especially when used in conjunction with other instructional strategies and approaches.
Technology also plays a critical role in providing engaging games for students. Additionally, tech allows teachers to tie student interests into learning. This can increase participation, attention-to-task, and processing of concepts.
To ensure the best game selection for students' learning needs, it is important to assess the main idea, structure, implementation, materials, and consumer reviews for any game utilized in teaching.
References:
Education and Behavior – Keeping Adults on the Same Page for Kids!
Rachel Wise is the author and founder of Education and Behavior. Rachel created Education and Behavior in 2014 for adults to have an easy way to access research-based information to support children in the areas of learning, behavior, and social-emotional development. As a survivor of abuse, neglect, and bullying, Rachel slipped through the cracks of her school and community. Education and Behavior hopes to play a role in preventing that from happening to other children. Rachel is also the author of Building Confidence and  Improving Behavior in Children: A Guide for Parents and Teachers.
"Children do best when there is consistency within and across settings (i.e., home, school, community). Education and Behavior allows us to maintain that consistency."