Orton-Gillingham-An Instructional Approach to Teaching Students with Dyslexia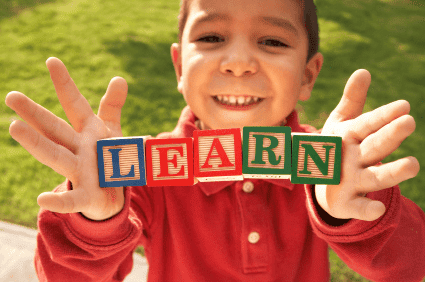 Orton-Gillingham is an instructional approach mainly intended for use with individuals who have difficulty with reading, spelling, and writing associated with dyslexia. Dyslexia makes it difficult for a person to connect sounds to letters and/or blend combinations of letters quickly and fluently in reading. Dyslexia can effect phonemic awareness, the ability to hear and separate the smallest sounds in a word, which can make spelling and sounding out words difficult. Some people think that dyslexia is seeing letters reversed in words, but in actuality, dyslexia is difficulty with manipulating sounds in words, not with correctly seeing the placement of the letters.
This Video Really Helps You Understand What it is Like to Have Dyslexia
Orton-Gillingham is best understood and practiced as an approach, not as a method, program, system or technique. In the hands of a well-trained experienced Orton-Gillingham instructor, it is a powerful educational tool and has helped many students with symptoms or diagnoses of dyslexia. Consult with a child psychologist, school psychologist or reading specialist if you see that your child is exhibiting signs of dyslexia. Some school psychologists do not identify dyslexia specifically, but can tell you if your child demonstrates signs of a reading disability and can describe in detail what difficulties your child is having.
The main content and instructional practices that make-up the Orton-Gillingham Approach are derived from research about
-how people learn to read and write
-why so many people have difficulty reading/writing
-how having dyslexia makes reaching literacy goals more difficult
-which instructional approaches are best for teaching people with symptoms of dyslexia to read and write
The Orton-Gillingham approach is named after Samuel T. Orton and Anna Gillingham. Samuel T. Orton (1879-1948),  a neuro-psychiatrist and pathologist, was a pioneer in bringing attention to reading difficulties and related difficulties with language processing. He brought together neuro-scientific information and principles of reading remediation. In the first half of the 20th century, he had identified dyslexia as an educational problem. Anna Gillingham (1878-1963) was a gifted educator and psychologist. Encouraged by Dr. Orton, she compiled and published instructional materials, as early as the 1930s, which provided the foundation for what became known as the Orton-Gillingham Approach.
The Orton-Gillingham Approach can be utilized in a one to one teacher/student setting or a small group setting. The program has also been successfully adapted for use in classroom instruction. Reading, spelling and writing difficulties have been the primary focus of the Orton-Gillingham Approach, although it has been successfully adapted for use with students who exhibit math difficulties as well.
Students with dyslexia need to master the same basic knowledge about language and its relationship to the writing system as anyone else who seeks to become a competent reader/writer. However, they need more help in sorting, recognizing, and organizing the raw materials of language such as letters-sound correspondence and letter-sound combinations. Language elements that non-dyslexic learners acquire easily must be taught directly and systematically.
One of the main components of the Orton-Gillingham Approach is that it is multi-sensory, meaning that three learning modalities, or pathways, through which people learn are utilized—visual (sight), auditory (hearing) and kinesthetic (movement/touch). For examples, a child would see the letter A, say it's name, and write it in the air. The Orton-Gillingham Approach allows for flexibility since it is an approach, rather than a program.
The Orton-Gilingham Approach has been supported by multiple studies, though some research has shown contradictory results. Read more about the research on the Orton-Gilingham Approach.
Related Articles:
Five Fun Activities to Teach Your Child Sight Words
Five Research-Based Reading Strategies for Teaching Phonemic Awareness: An Early Reading Skill
10 Fun Research-Based Activities to Teach Your Child Letter Sounds
12 Research-Based Spelling Strategies Parents Can Try at Home
Thank you for visiting educationandbehavior.com. We provide free academic, behavioral, and social-emotional support for children. Browse our topics from the menu button at the top left of the page! Receive our updates on Facebook!
References:
Sherman, Gordon. Can Neuroscience Help to Demystify Dyslexia? Schwab Learning.
The Orton Gillingham Language Approach – A Research Review
"Orton-Gillingham Approach" (PDF). Florida Center for Reading Research. Retrieved 2007-05-23.
Ritchey, K.D.; Goeke, J.L. (2006). "Orton-Gillingham and Orton-Gillingham Based Reading Instruction: A Review of the Literature". The Journal of Special Education 40 (3): 171–183 (PDF). US Dept of Education. July 2010. Retrieved 2011-03-14
Use of an Orton-Gillingham Approach to Teach a Foreign Language to Dyslexic/Learning-Disabled Students: Explicit Teaching of Phonology in a Second Language. RL Sparks, L Ganschow, S Kenneweg… – Annals of Dyslexia, 1991 – psycnet.apa.org
The Structured Flexibility of Orton-Gillingham.BB Sheffield – Annals of Dyslexia, 1991 – Springer
Multisensory Teaching Approach for Reading, Spelling, and Handwriting, Orton-Gillingham Based Curriculum, in a Public School Setting. KS Vickery, VA Reynolds… – Annals of Dyslexia, 1987 – Springer
Phoneme Awareness in Language-Delayed Children: Comparative Studies and Intervention.N Warrick, H Rubin… – Annals of Dyslexia, 1993 – Springer
DYSLEXIA REVISITED: HISTORY, EDUCATIONAL PHILOSOPHY, AND CLINICAL ASSESSMENT APPLICATIONS  KJ Rooney – Intervention in School & Clinic, 1995
Turner, l.H.M. This Systematic Review Empirically Documents That the Effectiveness of Orton-Gillingham and Orton-Gillingham Based Reading Instruction Remains to be Determined. Evidence -Based Communication Assessment & Intervention, 2008. 2(2), 67-69.
Rachel Wise is the author and founder of Education and Behavior. Rachel created Education and Behavior in 2014 for adults to have an easy way to access research-based information to support children in the areas of learning, behavior, and social-emotional development. As a survivor of abuse, neglect, and bullying, Rachel slipped through the cracks of her school and community. Education and Behavior hopes to play a role in preventing that from happening to other children. Rachel is also the author of Building Confidence and  Improving Behavior in Children: A Guide for Parents and Teachers.
"Children do best when there is consistency within and across settings (i.e., home, school, community). Education and Behavior allows us to maintain that consistency."
18% Off
$27.99
$22.89
(as of December 3, 2022 12:50 GMT -04:00 - More info

Product prices and availability are accurate as of the date/time indicated and are subject to change. Any price and availability information displayed on [relevant Amazon Site(s), as applicable] at the time of purchase will apply to the purchase of this product.

)
[ Toddler Learning Toys ] - This speech therapy toy includes a card reader and 112 double sided flash cards covering 12 subjects like shapes, colors, animals, daily necessities, transports, food, fruits, vegetables, costumes, nature, persons & jobs. ...
read more