[widget id="bcn_widget-2"]
These 5 Oral-Motor Sensory Tools Have the Best Reviews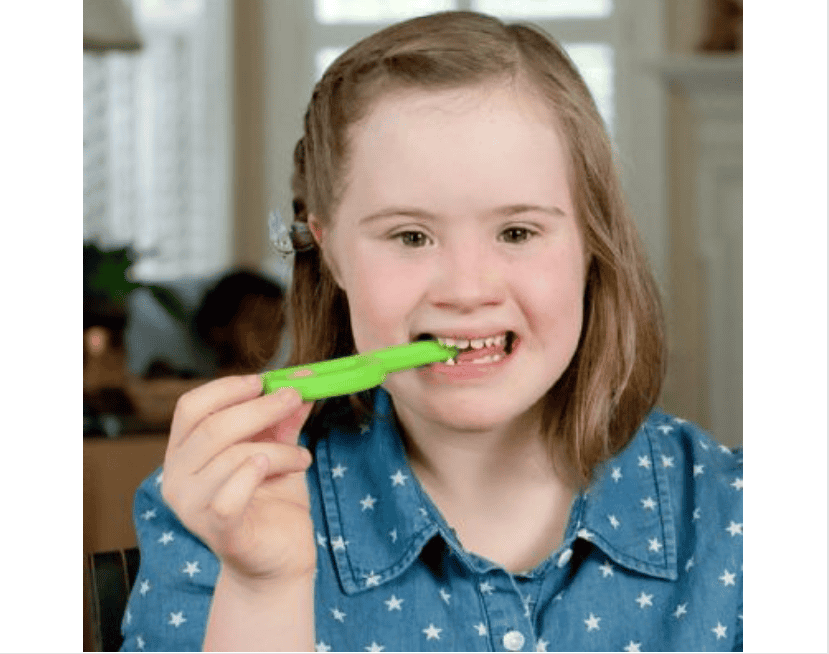 With the onset of COVID-19 and the possibility of transmission, the use of oral-motor sensory tools must occur around members of the individual's household only.
Many school-aged children with learning and behavioral needs, have benefited from the use of a therapeutic tool known as a "chewy" and similar oral-motor sensory tools. A "chewy" is a cylinder-shaped piece of rubber tubing, which is placed in the mouth and sucked or chewed on.
When a child utilizes a sensory tool like a "chewy," it appears to have a calming, organizing and focusing effect. In addition, for some children who put non-edible items in their mouths, a "chewy" can provide an appropriate sensory alternative. For more research-based literature about the positive effects of "chewies" see Perspectives on an Oral Motor Activity: The Use of Rubber Tubing as a "Chewy."
P's & Q's offer a safe, non-toxic durable surface for individuals who self-soothe by biting or chewing. Teething babies can also use Q's to practice biting and chewing and for mouth exploration. Q's are more suitable for babies as they cannot gag on the stem. P's & Q's are intended for individual use, with adult supervision. Video on the "Chewy" Sensory Tool
Aims to lessen anxiety and improve attention span for those with sensory needs
Provides a chewing alternative to those with oral fixations
Pocket sized/Can be easily taken anywhere
Strongest/Durable oral motor devices on the market today
Knobby Texture Chewy Tube is an oral motor device is designed to provide a resilient, non-food, chewable surface for practicing biting and chewing skills. Fun little 'knobbies' on the stem of this Chewy Tube provides even greater oral and tactile stimulation! Can be used for teething babies, children, and adults with a need to bite and chew.
Good for all ages and has textures that mimic three different fruits (strawberry, blueberry, and apple) – tactile stimulation for mouth and hands.
This sensory necklace was created for children with oral motor needs. It can help with anxiety and focus. Children should be supervised with necklace (as they should with any item they put in their mouth or around their neck). This product is not intended for babies.
Education and Behavior – A site for parents, educators, & counselors to come together to support children!
Rachel Wise is the author and founder of Education and Behavior. Rachel created Education and Behavior in 2014 for adults to have an easy way to access research-based information to support children in the areas of learning, behavior, and social-emotional development. As a survivor of abuse, neglect, and bullying, Rachel slipped through the cracks of her school and community. Education and Behavior hopes to play a role in preventing that from happening to other children. Rachel is also the author of Building Confidence and  Improving Behavior in Children: A Guide for Parents and Teachers.
"Children do best when there is consistency within and across settings (i.e., home, school, community). Education and Behavior allows us to maintain that consistency."