[widget id="bcn_widget-2"]
7 Motivating Kid-Friendly Visual Timers for Home & School (Focus, Goals, Breaks, & More)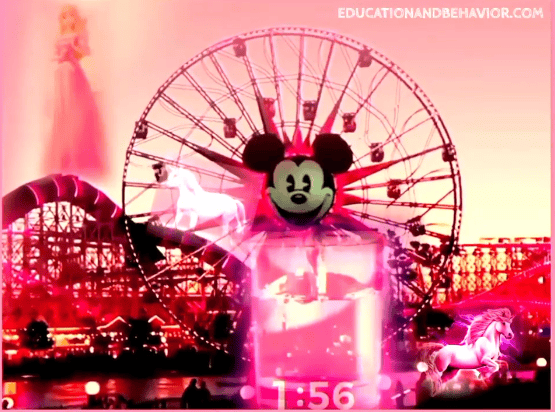 The featured visual timers below range from 30-seconds to six minutes.
If it is challenging to focus on a task or activity for even 30 seconds, you can start any one of the timers below at any time you wish (e.g., 20 seconds, 10 seconds, etc.).
Segments can range from one second to six minutes (or longer if you play through a timer more than once or use multiple timers).
Visual timers can also be used to take a break from a task, or to take a break before transitioning from one task to the next.
Additionally, the timers can be used a guide how long it should take you to switch between tasks or to complete tasks as well.
For instance, you can start the five minute timer, with a goal of brushing your teeth within the five minutes. Next you can use the six minute timer to get dressed.
If you need more time, add the four-minute timer. Then you can use the five minute timer twice to play a favorite game before heading to bed.
These timers are visual and made with liquid (or sand) motion.
The following timers are visual in nature, so people who have trouble understanding digital countdown timers can utilize the visual in each video as a time-guide. The visual component lets the viewer know how much time they have left of a task, activity or break.
Turn Sound of Each Timer On or Off According to Preference
Utilize any of visual timers below (30-Seconds to Six-Minutes) to help you or your student/child complete tasks or goals.
Recommended: 7 Short Movement Activities/Brain Breaks for Kids
Use these visual timers to build your focus stamina.
If you can focus on something for 15 seconds, 30 seconds, etc., start from there and slowly build up your stamina, with the time on task gradually going up to six minutes.
You can use a combination of the timers to do any number of minutes you want.
Tasks or activities that you can work on with the timers below include cleaning, organizing, homework, studying, exercising/stretching, meditation, computer work, processing emotions, etc.
Contact us and we will make you a custom-made timer.
Below are some additional ways to use these liquid-motion visual timers displayed above.
You can play the entire timer playlist to work on a task for a total of 21.5 minutes. If you choose to try the whole playlist, you can go straight through each video.
You can also alternate between work and breaks by letting the playlist go from the 30-Second Timer to the Six-Minute Timer.
You can also utilize these timers to practice skills such as listening, waiting, or taking turns.
You May Also Like:
Educationandbehavior.com – Keeping Adults on the Same Page for Kids!
Rachel Wise is the author and founder of Education and Behavior. Rachel created Education and Behavior in 2014 for adults to have an easy way to access research-based information to support children in the areas of learning, behavior, and social-emotional development. As a survivor of abuse, neglect, and bullying, Rachel slipped through the cracks of her school and community. Education and Behavior hopes to play a role in preventing that from happening to other children. Rachel is also the author of Building Confidence and  Improving Behavior in Children: A Guide for Parents and Teachers.
"Children do best when there is consistency within and across settings (i.e., home, school, community). Education and Behavior allows us to maintain that consistency."