[widget id="bcn_widget-2"]
The Benefits and Challenges of Homeschooling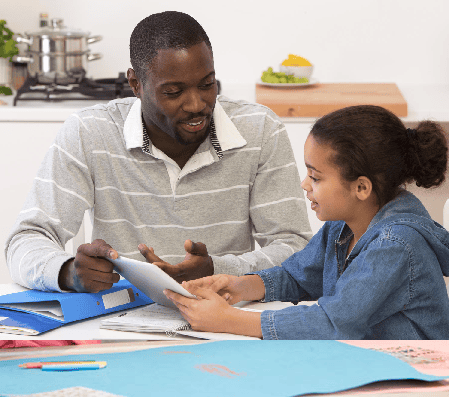 A child's education can be a complicated matter filled with many choices.
There are several options to consider when planning for your child's education.
Will they attend a public, private, or charter school?
Charter schools often have a specific focus (e.g, art, theatre, business), and students are usually accepted based on a random selection of local students who have applied.
Some parents wonder whether academics should take precedence over extra-curricular activities, or if there should be more of a balance.
When parents make decisions about how and where to provide an education for their child, they also need to take into account their child's need for individualized attention.
Some parents choose homeschooling as an alternative to traditional schooling?
Homeschooling can be an option for parents who seek something more individualized or personalized to fit their child's needs and/or the family's educational values.
Homeschooling has become more popular over the past several decades.
It is formally and legally recognized as a satisfactory alternative to the traditional schooling system. Contrary to popular opinion, studies show that homeschooled students do well overall academically and socially.
What is homeschooling?
Homeschooling involves children being educated at home by parents, guardians, or appointed tutors. Students who are homeschooled do not attend traditional schooling.
While not required, homeschooled students can utilize standard textbooks as part of their program if they desire to do so.
Homeschool is different from cyber school, in which students are expected to fulfill the requirements of an online school-based program.
Homeschooled children are expected to take standardized tests at the appropriate levels so that they can demonstrate their knowledge and progress, to eventually obtain their diplomas.
This means that they can still be part of mainstream education to an extent.
See benefits and challenges of homeschooling below, so you can make an informed decision for your school-aged child.
Benefits of homeschooling
1. Students can spend quality time with family while garnering skills such as landscaping, farming, mechanics, painting, or crafts.
These special interest areas can be built into the student's homeschool program.
2. Parents do not need to be certified teachers to run a homeschool program. Parents can also hire tutors to provide instruction at home.
3. If a parent is not comfortable with the number of subjects or classes offered by the local schools, then can take charge of their child's education with homeschooling, and incorporate the lessons they deem appropriate.
For instance, some families wish to incorporate spirituality or outdoor activities into their child's curriculum.
This can be done at home because a homeschooling curriculum is what you make it. It is completely flexible and customizable.
4. Students can also receive their education at any time, on any day, allowing for more flexibility and pacing of tasks throughout the week.
5. Some children may have been bullied or teased a lot in school. This can seriously damage their self-esteem and impact multiple areas of their life.
In such instances, homeschooling, can help a child heal, while they prepare for the challenges ahead.
6. A homeschooled child can participate in community dance, theater, sports, games, etc. where socialization, teamwork and competition are naturally included.
Traditional school is not the only place that offers these types of experiences.
7. Some children have disabilities, and their parents may feel they need more individualized attention and instruction than can be offered at their local school.
If parents find it challenging to educate a child with a disability at home, a specialized tutor can help.
Challenges of Homeschooling
1. Some homeschooled students might feel left out when their friends, neighbors, etc., are at school.
2. Others may isolate themselves, making it harder to make friends and communicate as they grow up.
This is why providing social opportunities to students as they progress through a homeschool curriculum is important.
3. Homeschooling is generally a large commitment on the part of the parents. One parent will likely need to be home to ensure their child has regular educational experiences throughout the school year.
Unless a child is older and extremely independent, they will need regular supervision throughout their homeschooling career.
Age and ability level need to be taken into consideration when deciding whether to homeschool.
If a parent cannot stay home, they would need to hire a tutor in most cases to ensure quality education.
4. The parent, tutor, or student must track all educational experiences in their homeschooling program. This can include written documents, pictures, videos, etc.
Although this is helpful for the student and those involved in their education, it is a time-consuming endeavor that must be considered when deciding whether to homeschool.
The homeschooled student's educational lessons need to be kept in a portfolio to show to the school district in order to gain credit for their studies.
Additional Information About Homeschooling
Some parents have concerns that they won't know enough to be able to teach their child once they reach middle school.
To help with this, parents can reach out to their child's school district, or to an education counselor or consultant (Yellow Pages or Google Search). An educational professional can help them understand how to best plan their child's homeschooling with the resources they have accessible.
The district or counselor/consultant should also be able to explain regulations and legal formalities regarding homeschooling in a student's country of residence.
There are dozens of useful education apps or online programs like MyLab/Math or Duolingo that are intended to provide lessons that can be done at home.
Homeschooling can also be supported by free online resources like Khan Academy.
Children who are homeschooled can rejoin mainstream education at any time.
Homeschooling can be helpful when children are sick for an extended time, or unable to commute to school for some reason.
What is flexi-schooling?
Some schools may provide the option of part-time traditional schooling mixed with a homeschool education. This mixed mode is called flexi-schooling.
Flexi-schooling offers a great middle ground as it gives parents some time to themselves, while allowing children to connect with peers at school.
Ask your school about flexi-schooling to see what options may be available. Private schools may have different guidelines than public or charter schools when it comes to flexi-schooling.
Where can parents find homeschooling support?
Parents struggling to cope with the challenge of homeschooling or those looking for ideas to improve their homeschool program can benefit from online forums or support groups where they can find like-minded parents to connect with and learn from.
Related Article: What is Cyber School Like? 10 Facts About the K through 12 Experience
Here is an example of a project that a homeschooled student can create:
The following video was made with free videos from pixels.com and music from the Splice Video Editing App. Video Editing was also done with the Splice App.
Homeschooling offers freedom of choice for parents who want more flexibility and individuality in their education than traditional schooling has to offer.
If you are an educator looking for a new position, you may be interested in homeschool teacher jobs on Jooble.
Rachel Wise is the author and founder of Education and Behavior. Rachel created Education and Behavior in 2014 for adults to have an easy way to access research-based information to support children in the areas of learning, behavior, and social-emotional development. As a survivor of abuse, neglect, and bullying, Rachel slipped through the cracks of her school and community. Education and Behavior hopes to play a role in preventing that from happening to other children. Rachel is also the author of Building Confidence and  Improving Behavior in Children: A Guide for Parents and Teachers.
"Children do best when there is consistency within and across settings (i.e., home, school, community). Education and Behavior allows us to maintain that consistency."