How School Counselors and Teachers Can Work Together to Promote Social-Emotional Learning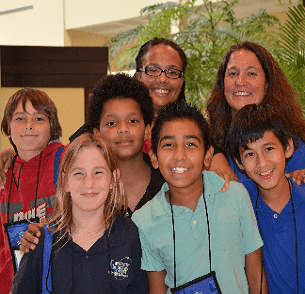 School is about more than learning academics. It is also a prime environment for promoting social and emotional learning (SEL). In recent years, the Every Student Succeeds Act has called attention to this need. This act requires that states measure school success with at least one non-academic indicator, such as communication, empathy, or conflict management. In order to effectively teach children important developmental social and emotional skills, it is necessary for the teacher and the school counselor to work in an integrated way.
What is Social Emotional Learning?
Social and emotional learning is the process of developing and using skills to identify and regulate emotions, develop positive relationships, and make responsible decisions. Students with social and emotional skills are more likely to showcase positive social behaviors such as sharing, empathy, and kindness. They are also more likely to have a stronger growth mindset (the idea that positive traits, such as intelligence, can be developed with practice) and show greater resiliency. According to the Collaboration for Academic, Social, and Emotional Learning (CASEL), Social and emotional learning development encourages the following five core competencies:
Self-Awareness: Becoming self-aware by recognizing one's own feelings, personal goals, strengths, and limitations on how they influence their behavior.
Self-Management and Emotion Regulation: Learning to regulate daily stressors and manage self-emotions. This includes self-discipline, self-motivation, and impulse control.
Social Awareness: Improving social development and awareness of others in the form of empathy and learning to appreciate cultural and social differences.
Relationship and Social Skills: Developing the necessary social skills to create lasting and meaningful relationships with individuals and groups different than self. This includes developing communication and teamwork skills.
Responsible Decision Making: Learning to make decisions when dealing with everyday problems, while also considering ethics, safety concerns, and everyday social norms.
The Teacher's Role in Social Emotional Learning

Teachers spend the majority of the school day with the students. They can directly influence SEL development in the classroom at every grade level. SEL is important and shows the best results when learning opportunities occur early and continue throughout high school education. Teachers can implement the following SEL practices.
Get to know students by name
Start each day with a feelings check-in
End each day with a feelings check-out
Set clear expectations and classroom guidelines
Allow students to solve problems through question asking
Encourage teamwork within the classroom
Be competent of cultural and social differences
Create opportunities for the student to find their voice
Model social and emotional skills
Develop SEL interactions with students through positive relationships
Be consistent with teaching SEL methods
Check out this video for examples of feelings check-ins and more social-emotional development.

The School Counselor's Role in Social Emotional Learning
Assisting teachers with curriculum changes that are more in line with SEL development
Modeling the SEL core competencies in all interactions
Promoting alternative thinking strategies (PATHS) training of teachers (PATHS Training LLC is the original authorized worldwide provider of training and technical assistance for the PATHS curriculum, the research-based social and emotional learning (SEL) curricula for children in preschool through grade 6.)
Providing direct instruction to academic staff (directly teaching staff methods for incorporating SEL into their classrooms and everyday interactions)
Advocating for SEL, collaborating with school staff on programs and teaching methods, and promoting systemic change in the school
Encouraging small group work lessons in the classroom
Using data to demonstrate the value of SEL development
Beginning individual and group interactions with students with a feelings check-in
Supporting and guide all school professionals to implement SEL in their school
Social Emotional Learning Impact
Schools that implement an SEL program are likely to see a long-term impact and positive results. Schools often see improvements with students in the areas of academic success and behavioral and attitude development. These positive results are expected to influence later academic success and future relationships, even after the student has left school.
A recent study by CASEL, Promoting Positive Youth Development Through School-based Social and Emotional Learning Interventions, finds that students increase as much as 13 percentile points academically, on average, approximately 3.5 years after being exposed to an SEL academic program.
CASEL's study also found that students had significantly decreased rates of emotional and conduct problems, drug use, and an increase in both social and developmental skills. In Early Social-Emotional Functioning and Public Health, a study published by the American Public Health Association, students exposed to SEL in a kindergarten program were more likely to have improved educational and employment success, as well as lower substance abuse and fewer occurrences of mental health problems.
More schools are learning of the advantages of an SEL academic program and are increasingly implementing these curriculum changes and additions. Students are left with improved social and problem solving skills. The collaboration of teachers, school counselors, and other school personnel to implement an SEL model of development, leads to higher overall success rates for students and the school.
Targeted Audience: All levels – School Counselors, Principals, Teachers
This article was reviewed and edited by Rachel Wise, CEO of educationandbehavior.com, licensed behavior specialist and certified school psychologist.
Thank you for visiting educationandbehavior.com, a free resource for parents, caregivers, educators, and counselors. We provide academic, behavioral, and social-emotional support for children. Follow us on Facebook!
Social-Emotional Books/Games

Rachel Wise is the author and founder of Education and Behavior. Rachel created Education and Behavior in 2014 for adults to have an easy way to access research-based information to support children in the areas of learning, behavior, and social-emotional development. As a survivor of abuse, neglect, and bullying, Rachel slipped through the cracks of her school and community. Education and Behavior hopes to play a role in preventing that from happening to other children. Rachel is also the author of Building Confidence and  Improving Behavior in Children: A Guide for Parents and Teachers.
"Children do best when there is consistency within and across settings (i.e., home, school, community). Education and Behavior allows us to maintain that consistency."
18% Off
$27.99
$22.89
(as of December 2, 2022 12:50 GMT -04:00 - More info

Product prices and availability are accurate as of the date/time indicated and are subject to change. Any price and availability information displayed on [relevant Amazon Site(s), as applicable] at the time of purchase will apply to the purchase of this product.

)
[ Toddler Learning Toys ] - This speech therapy toy includes a card reader and 112 double sided flash cards covering 12 subjects like shapes, colors, animals, daily necessities, transports, food, fruits, vegetables, costumes, nature, persons & jobs. ...
read more