[widget id="bcn_widget-2"]
How Does Minecraft: Education Edition Work? Is It Good for Students?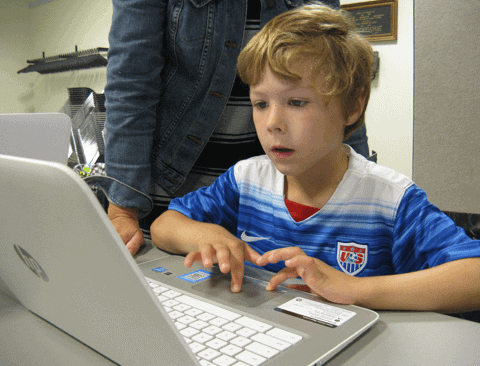 We are all aware of the negative consequences associated with too much screen time; and it is imperative that screen time is monitored, and utilized in moderation. However, I also believe in using children's interests to pull them into learning, a practice supported by research. When students are interested in what they are doing, the learning doesn't feel forced, and comes naturally.
Something I have seen consistently seen, which has really boomed over the past 20 years, is children's love of electronics (phones, computers, IPads, gaming systems). Over the past five years I have also noticed that many of my students, including ones diagnosed with ADHD or autism, absolutely love the game Minecraft. So when I heard about Minecraft: Education Edition I couldn't help but want to learn more. When we talk about using kids' interests to pull them into the learning process, Minecraft: Education Edition is a perfect example. We have two things so many children already love (electronics and Minecraft) and we are using it to bring education to life. This adds an exciting element to learning, not experienced by many before. We usually tell kids to put their video games down to learn, but now we are using games to teach them. This is a game loved by so many, that millions of kids are already intrigued by Minecraft: Education Edition, learning subjects such as math, science, history, geography, English, and visual arts.
Additionally, many students who have trouble learning the traditional way (e.g., reading books, listening to lectures) are hands-on/visual learners who do best when they can see and interact the with concepts they are learning about. Minecraft: Education Edition gives visual/hands-on learners an opportunity to learn concepts in a non-traditional (fun) way. With cyber school on the rise, Minecraft: Education Edition could also add an exciting curriculum element to online learning.
The Minecraft: Education Edition website explains how the program is an excellent tool to engage students in learning, collaboration, and critical thinking. It allows us to tap into the way kids learn, and engage them more fully in the learning process. Minecraft also gives students a sense of ownership and autonomy when it comes to their learning. Students bring their imagination into the learning process. Teachers and students can work, learn, and connect with each other.
Check out teachers talking about their experience with Minecraft: Education Edition! Both teachers and students feel excited and engaged:

Research studies indicate that students participating in Minecraft: Education Edition have shown improvement in academic achievement and are more eager to learn. Teachers who are utilizing Minecraft: Education Edition were surveyed and reported noticeable positive effects on students' problem solving skills, collaboration, computational thinking, critical thinking, and creativity.
Minecraft: Education Edition:
-is designed for students of all learning styles, ages K-12 and higher education
-supports development of key 21st century skills including STEM (Science, Technology, Engineering, Math)
-has more than 400 free lessons & tutorials available on the website
-has special features which allow for formative assessment, teacher controls and classroom collaboration
-provides peer support through an online educator community
-Chemistry features allow students to build an in-game periodic table
-Update Aquatic introduces marine life to the Minecraft oceans
-Treasure Island and Roald Dahl worlds bring novels to life
-In-game features like camera, book and quill, and chalkboards help students document their work
-3D export tool for mixed reality and 3D printing
Minecraft: Education Edition is readily available for educators on Mac, PC, or IPAD.  The program provides hundreds of standards-aligned lessons, classroom-friendly features, tutorials and downloadable content. Check out the website to download lessons at education.minecraft.net or download the app at itunes.apple.com/us/app/minecraft-education-edition.
The app requires an Office 365 Education account and a Minecraft: Education Edition subscription. If you are unsure about your school's subscription or the services you have access to, talk to your child's teacher or school IT Admin.
While screen time needs to be monitored and limited by parents and teachers, as too much screen time can be addictive; studies also show that video games have cognitive benefits, such as long-lasting positive effects on perception, attention, memory, and decision-making. Much of the research involves the effects of action video games (games that require players to move quickly, keep track of many items at once, hold a lot of information in their mind at once, and make quick decisions). Many of the abilities tapped by these types of video games are the same ones that psychologists consider to be the basic building blocks of intelligence.
To reduce the chance of screen addiction, only allow screens for portions of the day (e.g., less than two hours), monitor what your child is watching/playing, ensure your child is completing other activities regularly (e.g., exercising, playing sports, playing an instrument, cooking, cleaning, playing games, going to the park, making projects, etc.), ensure your students are learning through other means (e.g., hands-on projects, discussion, reading, demonstrating, etc). Teach your child/students how to set goals and work towards leisure activities.
What are your thoughts? Is Minecraft: Education Edition too risky due to the chance of screen addiction, or is it a practical and logical teaching tool due to student interest, and the interactive/imaginative nature of the game?

Rachel Wise is the author and founder of Education and Behavior. Rachel created Education and Behavior in 2014 for adults to have an easy way to access research-based information to support children in the areas of learning, behavior, and social-emotional development. As a survivor of abuse, neglect, and bullying, Rachel slipped through the cracks of her school and community. Education and Behavior hopes to play a role in preventing that from happening to other children. Rachel is also the author of Building Confidence and  Improving Behavior in Children: A Guide for Parents and Teachers.
"Children do best when there is consistency within and across settings (i.e., home, school, community). Education and Behavior allows us to maintain that consistency."