23 Time Management Tips to Increase Productivity in Teenage Students with ADHD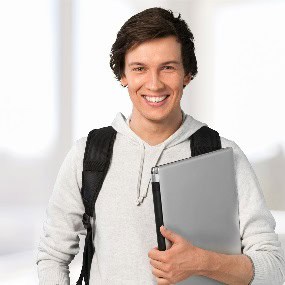 My primary goal is to make things easier for students. There are many obstacles students face when studying. I'm trying to simplify their lives by giving them helpful tips. One day, an idea to write an article for students with Attention Deficit Hyperactivity Disorder (ADHD) came to mind. A family member of mine named "John" struggles with ADHD, and talking with him about what he goes through motivated me to help other students going through similar problems.
John used to complain that he had a tough time learning new material. Also, he could never make due dates when given projects to work on, because he actually wasn't able to set the right priorities and organize his time wisely. All these problems kept him from succeeding in his classes and getting good grades. Then he decided to implement some strategies to improve his success rate.  After a few months of persistent effort, things started to get better, and he became proud of his accomplishments.
I had a few long conversations with John and took plenty of notes. The result is a series of articles with studying tips that aim to help students with ADHD. This is the first article in the series (stay tuned for more to come). John was able to learn self-management skills to improve his academic performance, and I believe that other students can do the same. I am passionate about these tips and eager to share them with others.
Some of these tips are more appropriate for college and high school students, but many can be taught to elementary and middle school students as well. Additionally, these tips can help anyone, not just individuals with ADHD.
It is important to note that many of the tips in this article are in line with the handbook, Teaching Children with ADHD, created and by the US Department of Education in 2006. This handbook is based on the work of ADHD researchers such as Russell A. Barkley and Dr. George J. Dupaul.
Related Article: 8 Unique Studying Tips for College Students with ADHD

23 Time Management Tips for Teenage Students with ADHD to Increase Productivity
1. Watch the time.
You can use whatever you want: a desk clock, wall clock or wristwatch. When starting a task, say the time out loud, or make a note of it (write it down, for instance). This will help you to stay on track. Promise yourself to work on the task (homework,chore) for a specific amount of time (e.g., 10 minutes, 20 minutes) before taking a break. Start off with an amount of time that you know you can conquer, and slowly add more time as your stamina improves.
2. Set the limits.
To discipline yourself even more, use a timer. You can set an alarm to remind yourself to start a task, and set a timer to go off after a certain amount of time has passed. This will help you keep track of how much time you spend on a task and build your stamina (e.g., get successful at 10 minutes of focusing on a task without a break and slowly build up).
Related Article: 3 Ways to Use Timers  to Encourage Homework and Chore Completion
3. Allow extra time.
Start a habit of giving yourself an extra 10 minutes for every half an hour you think you'll spend on completing a task. You'll have a more flexible schedule in case you have incorrectly estimated the length of the task.
4. Set your plans earlier.
It's the same thing as with the previous tip. If you need to be somewhere at a certain time, aim to be there 10–15 minutes earlier. You can also make a reminder to know exactly when to leave.
5. Use a planner.
You can write down all your plans and appointments using any device you want. Tablets and smart phones have calendars and notes sections to help you keep track. You can also utilize a separate notebook or organizer. You can purchase one at the store or print out weekly planners for free online. Just do a Google Image Search for Weekly Planner. The main purpose of this is to keep everything in order so you don't forget anything.
6. Choose the right time.
All people are different and it's impossible to say what time is the best for everyone to study. You need to choose the part of the day when you're the most active to study. This will maximize its efficiency.
7. Don't cram your schedule.
While some feel more motivated having a busy schedule, assigning too many tasks for the day often just adds unnecessary pressure. If you feel stressed out, free up your schedule a bit.
8. Set your priorities.
When you have many tasks to do during the day, it's important to keep this thought in your head. Tell yourself that there's work to do instead of just dozing off and procrastinating. You'll only lose time, without getting things done.
9. Have something to waste.
In this case, it's time. Leave a place in your schedule just to let off some steam and do nothing. After that, you'll be back free of stress and refilled with energy.
10. Have a consistent sleep schedule.
Do your best to go to sleep at the same time each night and get enough sleep. If done right, it will have a positive effect on your productivity.
11. Your mood matters.
When making a schedule, make sure that you're in a good mood and thinking positively. If you're forcing yourself to make a schedule, chances are that you'll have a hard time following it too.
12. Create a long-term schedule.
This one includes only regular and fixed tasks. It won't change much with time and acts as a base for building shorter term schedules.
13. Create a weekly schedule.
This schedule will include all the important events waiting for you during the week. It can also contain the amount of work you need to do. Changing each week, this schedule is the best to build on weekends.
14. Create a daily schedule.
This one will contain the specific tasks to be completed throughout the day. After something is done, you can cross it out. Here's the main idea: Daily scheduling not only keeps you organized, but also prevents you from giving up the idea of making schedules in the first place.
15. Double the time.
While everyone's schedule is unique, there's a guideline that works for most students. Plan 2 hours of studying for each hour of classes. This includes all the study-related tasks.
16. Make a habit.
Try studying at the same time each day. After some time, this will become a habit, which will make your studying more systematic and active. It will also be easier to follow the schedule.
17. Include weekends in your schedule.
No, nobody tells you to study on weekends. What you can do, though, is to schedule an hour to review all the material you've learned during the week.
18. Trade the time.
No one can predict the future, and an unscheduled event will happen occasionally. Instead of giving up the time that you planned to spend on a task, just trade it with a later time, so that you can still complete the task. It won't be a problem if you save up time as mentioned in the 9th tip.
19. Set the milestones.
Decide what steps you'll need to complete a certain task. Milestones will help you to estimate your time better and focus on smaller, more manageable chunks of work instead of one huge task.
20. See the deadline.
Write down the deadline for a certain task. Put it somewhere so you can always see it. This will act as a reminder to not waste your time and stay focused.
21. Make a commitment.
When you set the time for your studying, stay committed to it. Remind yourself that if you finish your tasks on time, you'll be free to do whatever else you want. Don't try to find compromises. Otherwise, you'll just end up spending even more time.
22. Don't delay.
Start each task as soon as possible – preferably as soon as you get it.
23. Know exactly what you'll do.
When starting a task, go through all the steps you'll complete in your head. If it will help, write it down. Stick to that plan.
Why?
Even if there's a distraction, you'll be able to deal with it and resume your work quickly because you know exactly what to do next.
Thank you for visiting educationandbehavior.com. We are a free resource for parents/caregivers, educators, and counselors. Browse our topics/categories from the navigation bar above! Receive our updates on Facebook.
This article was reviewed and edited by CEO and founder of educationandbehavior.com, Rachel Wise. Rachel is an avid writer/blogger, licensed behavior specialist, and certified school psychologist with a Masters Degree in Education. She has over 19 years of experience working with individuals with academic and behavioral needs. You can contact Rachel directly at rachelwise@educationandbehavior.com.
You Might Also Like: Five Helpful Fidget Tools for Kids with Autism and ADHD (Fidgeting Helps Focus) and 14 Strategies to Help Children with ADHD in the Classroom and at Home
Rachel Wise is a certified school psychologist and licensed behavior specialist with a Master's Degree in Education. She is also the head author and CEO at educationandbehavior.com, a site for parents, caregivers, educators, counselors, and therapists to find effective, research-based strategies that work for children. Rachel has been working with individuals with academic and behavioral needs for over 20 years and has a passion for making a positive difference in the lives of children and the adults who support them. For Rachel's top behavioral strategies all in one place, check out her book, Building Confidence and Improving Behavior in Children, a Guide for Parents and Teachers. If you want Rachel to write for your business, offer behavioral or academic consultation, or speak at your facility about research-based strategies that support children, email her at rachelwise@educationandbehvior.com.