Responsive Classroom: Evidenced-Based Approach Improves Academics & Behavior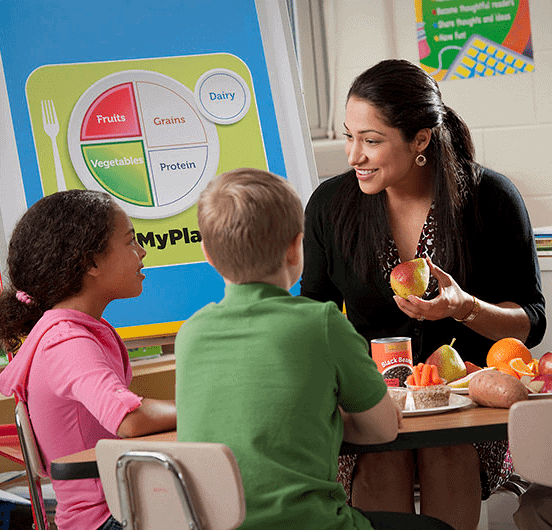 To find out how to bring Responsive Classroom to your school, visit the Responsive Classroom Website.
You Might Also Like: How to Motivate Your Students and Get Them to Listen to You – 39 Effective Strategies for Classroom Management
Thank you for visiting educationandbehavior.com, a website that provides free academic, behavior, and social-emotional support for children! Receive our updates on Facebook!
What is Responsive Classroom?
Responsive Classroom is an evidence-based approach to teaching elementary and middle school students. Responsive Classroom stresses the importance of fusing social-emotional learning with academic learning to create the optimal environment for success.
Research finds that the Responsive Classroom approach is associated with higher math and reading achievement, an improved school climate, and higher-quality instruction. Responsive Classroom is described as one of the most well-designed evidence-based social and emotional learning (SEL) programs by the Collaborative for Academic, Social, and Emotional Learning (CASEL).
Below are the Four Key Domains of the Responsive Classroom Approach:
What is the Core Belief of Responsive Classroom?
For students to be successful in and out of school, they need to learn a set of social and emotional competencies which include cooperation, assertiveness, responsibility, empathy, and self control. They also need to learn a set of academic competencies, which include academic mindset, perseverance, learning strategies, and academic behaviors.
Social-Emotional Competencies Include:
Cooperation: the student's ability to form new relationships, maintain healthy relationships and friendships, accept differences, avoid social isolation, resolve conflicts, be a contributing member of the classroom and school community, and work productively and collaboratively with staff and peers.
Assertiveness: the student's ability to take initiative, seek help, standup for their ideas in a positive way (without hurting or negating others), succeed at challenging tasks, and recognize themselves as an individual who is separate from the circumstances or conditions they are in.
Responsibility: the student's ability to stay motivated and take action in order to follow through on expectations; as well as the student's ability to identify/recognize a problem, consider the consequences of possible solutions, and choose a positive solution.
Empathy: the student's ability to (recognize/understand) another person's state of mind and emotions, and be open to new ideas and perspectives; to appreciate and value the differences and diversity in others; and to care about the welfare of others, even when it doesn't benefit or may come as a cost to one's self.
Self-Control: the student's ability to recognize and regulate their own thoughts, emotions, and behaviors in order to be successful in the moment and remain on a successful path.
Related Article: Research Says We Can Help Kids of All Ages Develop Empathy-Find Out How!
Academic Competencies Include:
Academic mindset: "Four self-perceptions influence a student's academic mindset: 1) I belong in this academic community; 2) my effort improves my performance; 3) I can succeed at this work; and 4) I see the value in this work."
Perseverance: Students who persevere complete assignments in a thorough and timely manner to the best of their ability, despite potential obstacles, distractions, or challenges.
Learning Strategies: Learning strategies include different techniques, processes, or tactics that a student uses to 1) learn, think, remember, and recall, 2) monitor their own comprehension and growth, 3) recognize when they are confused or have an error in thinking in order to self-correct, and 4) set goals and manage their time effectively in order achieve those goals.
Academic Behaviors: The ways in which a student behaves to support his/her own academic success are considered academic behaviors. An example of positive academic behaviors include regular attendance, arriving with necessary materials or assignments, paying attention to the best of one's ability, participating in classroom activities and discussions, and devoting out-of-school time to studying and completing assignments/projects.
What are the Guiding Principles of Responsive Classroom?
The Responsive Classroom approach is influenced by the work of educational theorists and experienced, exemplary classroom teachers. According to the Responsive Classroom Website, six principles guide the approach. These include:
1. Teaching social and emotional skills is as important as teaching academic content.
2. How we teach is as important as what we teach.
3. Great cognitive growth occurs through social interaction.
4. What we know and believe about our students individually, culturally, and developmentally guides our expectations, reactions, and attitudes about those students.
5. How we work together as adults to create a safe, joyful, and inclusive school environment is as important as our individual contribution or competence.
6. Partnering with families "knowing them and valuing their contributions" is as important as knowing the children we teach.
What are the Classroom Practices & Strategies of Responsive Classroom?:
The Responsive Classroom approach is based on the belief that integrating academic and social-emotional skills fosters an environment where students can reach their full learning potential. Practices and strategies are utilized that build academic and social-emotional competency. The Responsive Classroom approach works well with many other programs and can be gradually introduced to any teacher to become a part of their everyday practices
Below are the core classroom practices that are the heart of the Responsive Classroom approach:
Shared Practices
Interactive Modeling: Procedures and routines are taught in an explicit way (e.g., students are taught how to behave when entering and exiting the classroom, how to engage with academic content, and how to give and accept feedback).
Teacher Language: Teachers have a specific way of talking to students that enables students to engage in their learning and develop the academic and social-emotional skills they need to be successful in and out of the classroom.
Logical Consequences: A non-punitive response to misbehavior is utilized, which allows teachers to set clear limits, and allows students to fix and learn from their mistakes while maintaining their dignity.
Interactive Learning Structures: Students are given the opportunity to engage with academic content in active (hands-on) and interactive (social) ways.
Elementary Practices  (K-4)
Morning Meeting: Everyone in the classroom gathers at the beginning of each school day for 20 to 30 minutes to engage in four sequential components: greeting, sharing, group activity, and morning message.
Establishing Rules: The teacher and students work together to establish goals for the year and rules that will help them reach these goals.
Energizers: Students engage in brief, playful, whole-group activities that are used as breaks in lessons.
Quiet Time: A short period of relaxation that takes place after lunch and recess, before the rest of the day continues.
Closing Circle Everyone gathers for five- to ten-minutes at the end of the day to reflect and celebrate through participation in a brief activity or two.
Middle School Practices (5-8)
Responsive Advisory Meeting: A morning routine with students and staff that builds positive, meaningful relationships. Components include: arrival welcome, announcements, acknowledgements, and activity.
Investing Students in the Rules: Students work together to establish classroom expectations based on their individual goal
Brain Breaks: Short breaks are given in between lessons to increase focus, motivation, learning, and memory.
Active Teaching: Teachers utilize a straightforward, developmentally appropriate strategy for delivering curriculum content. Components include: teacher presentation, explanation, illustration, and demonstration.
Student Practice: Students explore and practice the content and skills taught during a lesson, under teacher guidance.
Video-Responsive Classroom

To find out how to bring Responsive Classroom to your school, visit the Responsive Classroom Website.
You Might Also Like: How to Motivate Your Students and Get Them to Listen to You – 39 Effective Strategies for Classroom Management
Thank you for visiting educationandbehavior.com, a website that provides free academic, behavior, and social-emotional support for children! Receive our updates on Facebook!
Rachel Wise is a certified school psychologist and licensed behavior specialist with a Master's Degree in Education. She is also the head author and CEO at educationandbehavior.com, a site for parents, caregivers, educators, counselors, and therapists to find effective, research-based strategies that work for children. Rachel has been working with individuals with academic and behavioral needs for over 20 years and has a passion for making a positive difference in the lives of children and the adults who support them. For Rachel's top behavioral strategies all in one place, check out her book, Building Confidence and Improving Behavior in Children, a Guide for Parents and Teachers. If you want Rachel to write for your business, offer behavioral or academic consultation, or speak at your facility about research-based strategies that support children, email her at rachelwise@educationandbehvior.com.
31% Off
$28.99
$19.99
(as of July 31, 2022 03:54 GMT -04:00 - More info

Product prices and availability are accurate as of the date/time indicated and are subject to change. Any price and availability information displayed on [relevant Amazon Site(s), as applicable] at the time of purchase will apply to the purchase of this product.

)
Interactive Dinosaur Learning: Discover dinosaur sounds, fun facts and captivating games for your child to love! Your child will learn about Brachiosaurus, T-Rex, Spinosaurus, Velociraptor, Triceratops, Parasaurolophus, Stegosaurus, Pachycephalosauru...
read more