[widget id="bcn_widget-2"]
See These 10 Important IEP Meeting Tips for Parents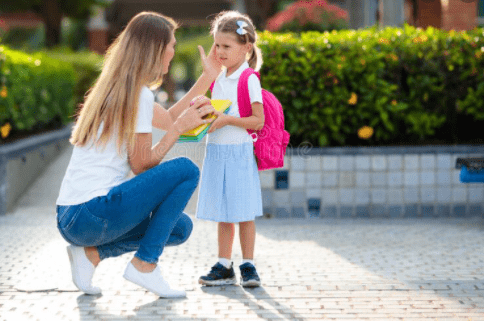 What Is an IEP?
If you have concerns about your child's progress in school, you can request an evaluation from a school psychologist to determine if your child qualifies for an Individualized Education Program (IEP). Other support professionals such as a speech-language pathologist or occupational therapist (for visual-motor or sensory concerns) may be involved in the evaluation process as well.
In order to receive an IEP, the school needs to determine, through their evaluation process, that your child has an educational disability that significantly impacts their academic, behavior, or social-emotional skills.
You should receive a copy of the evaluation, along with an explanation about whether your child is in need of an IEP, and why they do or don't qualify.
Schools can evaluate your child for one of 14 educational disabilities under the Individuals with Disabilities Education Act (IDEA).
If your child is found to be in need of an IEP, the findings of the evaluation help determine what to put in the IEP as well.
The IEP will include goals to improve your student's skills, accommodations and/or modifications, and any related services such as speech or occupational therapy.
When Are IEP Meetings Held?
Once the school determines that an IEP is needed, the team will hold an initial meeting to review the contents of your child's IEP with you. Specifically, you will hear about goals for your child to work towards, along with accommodations and/or modifications to meet your child's needs in school.
Related Content:
Once a student has an IEP in place, the IEP team (e.g., parent, general education teacher, special education teacher, counselor) holds a meeting each year to review progress towards goals and make any necessary changes to the IEP. However, team members can call a meeting at any point throughout the year if changes need to be made to the student's IEP. Please check with your school's policy and procedures if your child does not attend a public school in the United States.
IEP Meetings Can Be a Stressful Time for Some Parents
Parents may feel nervous about what to expect before an IEP meeting. They could also feel confused during or after the meeting.
Parents can become upset or worried if they feel uncertain that their child's needs will be met. They also may wonder if their child is in the right environment for their learning needs. It can be challenging for parents to process their feelings related to their child's needs as well.
Tips Can Help Parents Before, During, and After an IEP Meeting
The following tips are gathered from:
real parents who attended IEP meetings for several years for their own children
my own observations of IEP meetings as a school psychologist
10 Important Tips for Parents for IEP Meetings
1. Make sure you understand why your child qualifies for an IEP.
Before you participate in an IEP meeting for your child, be sure you have a thorough understanding of the findings of your child's evaluation and why an IEP is recommended. I have worked with several parents who were unsure of the reason for the IEP.
If you have received the evaluation, but it was not reviewed with you, ask the school psychologist or other professional who completed it, to go over it with you to ensure you understanding the findings.
All children with an IEP need to meet criteria for an educational disability under the Individuals with Disabilities Education Act (IDEA). Examples of disabilities listed under IDEA include Autism, Specific Learning Disability, Speech-Language Impairment, Intellectual Disability, Emotional Disturbance, or Other Health Impairment. Know which educational disabiltiy your child qualifies under.
See What is An IEP and How Do You Know if Your Child Needs One? for more disability categories under IDEA.
2. Know the recommendations being made to support your child.
The evaluation report should also tell you what strategies are recommended to support your child.
When you go into the IEP meeting, know the recommended strategies. If these recommendations are not listed in your child's IEP, ask the team to help you understand how and why they selected the strategies they placed in the IEP. If something does not sound helpful for your child, speak up, asking any questions you need to.
3. Do research about your child's area of need.
For instance, if your child meets criteria for the educational disability of autism, look up how to support students with autism in school on sites that provide evidence-based tips and strategies.
Many peer-reviewed journals, such as ERIC and NBCI, or authoritative websites provide valuable information about the strategies that are supported by research. If you research the topic, you will be knowledgeable about what your child may benefit from in the school setting.
4. Read or watch videos about special education law.
For instance, what happens if your child needs a service, that their school does not provide? What if you don't believe the program is helping your child? What if the IEP is not being implemented correctly?
It is important to know your rights as a parent with a child who has an IEP. If you are having difficulty understanding something, contact your state's Parent Information Center, as they have staff and training to assist you.
Video About Special Education Law
If learning special education law or attending IEP meetings feels overwhelming, you can always consider hiring an educational advocate to support you through the IEP process. Some families hire educational attorneys to ensure their child gets what they need in school. Search online for an advocate or attorney in your area if interested in that level of support.
An educated friend or family member can also be supportive at an IEP meeting. After the meeting, you can discuss thoughts or concerns with them and brainstorm ideas. During the meeting, your friend may chime in with helpful words or information, especially if you are feeling overwhelmed about your child's needs or the process.
5. Make sure you thoroughly understand the evaluation findings and recommendations.
Read all documents thoroughly and ask any clarifying questions, before giving permission to the school to begin the IEP. Sometimes schools have the meeting to review the evaluation and the IEP meeting back to back.
This gives the parent little time to process the evaluation results, or think through options they may want to consider for their child. If you need time to understand, process, and consider something before the IEP meeting, let the team know that you will be in touch with them to schedule the meeting.
6. Make a list of questions you want to ask before you go Into the IEP Meeting (you can even put them in your phone with speech to text).
This will help you ensure that you discuss all that is on your mind in relation to your child's evaluation, IEP, or educational needs.
Sample Questions:
how are the IEP goals monitored?
what strategies will be used to implement the goals?
are the strategies research-based?
who will implement them?
how will I receive updates of progress?
7. Make Sure You Thoroughly Understand the IEP Before Agreeing to Services
Before you sign to agree to the IEP, ensure you understand the reason for your child's goals, accommodations and/or modifications, and any related services. It is also reasonable to ask for a draft of the IEP to read through before an actual virtual or face-to-face meeting.
Sample Goal: Jenny (a third grader) will read 50 first grade sight words, in 4 out of 5 tries for three consecutive weeks
Sample Accommodation: Jenny will have all directions read aloud to her due to reading challenges.
Sample Modification: When working on Earth Science, Jenny will receive reading materials with first-grade level words, although Earth Science is a class for Jenny and her fellow third-graders.
Sample Related Service: Speech Therapy
You are part of the IEP team, so if you don't agree with something or don't understand something, ask and/or discuss it until you feel confident and secure with the recommendations and plan for your child.
You may also wish to take notes at the IEP meetings to refer to anything you may want to check or look into after the meeting.
8. Keep paper or electronic copies of your child's documents related to the IEP
Keep evaluations, IEPs, progress reports, and any other relevant information (such as paperwork of a medical diagnosis) all in one location (divided into relevant sections if needed).
This will allow you to look at your child's progress over time, and look back at any changes to their educational needs, or their IEP. You will be able to easily refer to the location of your documents when you need to review or share any relevant paperwork at future meetings or any other time.
9. Reach out to your child's school if there is anything you want to mention or ask about after the IEP meeting.
You are entitled to request more information related to your child's education or IEP at any point throughout the school year.
If needed, the school can call another IEP meeting at any time. So if you feel your child needs more support, less support, or if you have a general question or concern, don't be afraid to speak up at any point throughout the year.
10. Don't hold back in an attempt to please others or not rock the boat.
Sometimes when you express concerns about your child's education or IEP, you may sense resistance or defensiveness from others on the team.
Please know that this has nothing to do with you or your child. It has everything to do with that staff members' own damaged belief system or personal experiences.
If you express your concerns and feel the school still cannot provide your child with what they need, it is your right by law to seek the support of an objective party through mediation or a due process hearing.
Advocate for your child as much as needed, because the school and staff who care about your child, would respect your level of support. If they don't it's not the right place for your child.
Are you a parent or educator with helpful tips for parents going to an IEP meeting? If so, please comment below and share your tip!
Education and Behavior – Keeping us on the same page with research-based strategies for children!
Rachel Wise is the author and founder of Education and Behavior. Rachel created Education and Behavior in 2014 for adults to have an easy way to access research-based information to support children in the areas of learning, behavior, and social-emotional development. As a survivor of abuse, neglect, and bullying, Rachel slipped through the cracks of her school and community. Education and Behavior hopes to play a role in preventing that from happening to other children. Rachel is also the author of Building Confidence and  Improving Behavior in Children: A Guide for Parents and Teachers.
"Children do best when there is consistency within and across settings (i.e., home, school, community). Education and Behavior allows us to maintain that consistency."