[widget id="bcn_widget-2"]
How Can Parental Separation Affect Language Development in Children?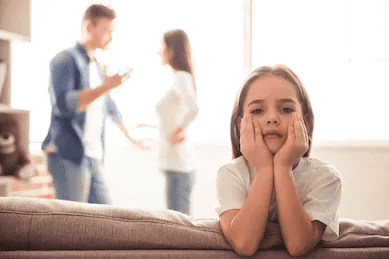 How is Parental Separation Related to Language Development?
Children can develop intense anxiety or insecurities when they are in traumatic or stressful situations. When parental separation is impending, occurring, or recent children may:
Live in a high conflict environment (e.g., parents frequently arguing, yelling, etc.)
Experience the loss of daily contact with a parent (e.g., one parent moves out)
Have to quickly adjust to a new lifestyle (e.g., child quickly moves out of home)
When these instances happen, kids can become withdrawn to shut out unpleasant situations or to hide the feelings they experience. Some children may feel shame or feel as though they are at fault. These feelings can become bottled up inside, leading to further withdrawal or anxiety. The feelings may be overwhelming and the child may be unsure what to do or how to express them.
A child may decline to interact with the parent who has moved out. They may not talk to other family members, withdraw from their friends etc. Children adopt coping mechanisms such as withdrawal for protection from rejection and feelings of inadequacy.
Developing language problems can follow when children withdraw, hide, keep their feelings in, or decline to interact with others.
Developing Speech and Language Problems Also Depends on Other Factors
In addition to the parental situation, a child's age, gender, socioeconomic status, the number of siblings they have, and how much language they are exposed to all can impact language development.
Additionally, while research suggests that divorce or separation can affect a child's language skills, the extent of the impact depends on various factors.
For instance, talking to your children openly about the changing family situation and welcoming questions can take away some fear and anxiety. Keep in mind though that even an explained absence of a parent can be very stressful for a small child, possibly causing them to shut down. If you observe that your child is withdrawing or shutting down please discuss your concerns with your child's doctor or other appropriate professionals.
---
You May Also Like: Talk Space Online Therapy
---
Parents Will Want to Handle the Separation Carefully
Although it is hard to work through your disagreements in the early days of the separation, you want to protect your kids and create an atmosphere of love and support.
Easing the children gently into the new family lifestyle helps. As an example, you may need to tell them that now daddy will be driving them to school or taking them to doctors' appointments. Or they may need to know that they will be spending every other week with each parent.
It is helpful to continue everyday activities, such as reading to the kids at bedtime, to maintain a sense of normalcy and security. Research indicates that children benefit from consistency in their daily lives.
Both Parents Should Contribute to Supporting Their Children's Development
During or after separation, both parents need to be supportive to the child and be on the lookout for any delays which may suggest the need for an evaluation.
Children should be developing the following skills between ages two and three:
stringing two to three words into sentences
learning to say their first name
identifying themselves with the word "I"
dressing up
jumping in one place
learning to write by drawing vertical lines and circles
coloring
If you notice delays, please schedule an evaluation to have your child's needs assessed. If you are in the United States you can request an evaluation at your child's school, early intervention office, or at a private clinician's office such as a developmental pediatrician, speech-language pathologist, child psychologist, neurologist, etc. If you are unsure which professional to go to, please consult with your family doctor, and child's school if applicable.
Related Article: How Do You Know if Your Child Needs an IEP at School?
Focus on Balancing Living in Two Homes
Therapy can be more challenging when kids are spending time between two households. Parents can help by making an effort to coordinate sessions and keep each other updated about the child's progress.
Parents can use a shared platform where they can communicate with the therapist to get instructions on how to practice sounds and continue with any other exercises. Considering that speech therapy works best with repetition, both parents should stay informed about the sessions.
Conclusions Regarding the Impact of Parental Separation on Language Development
The effects of parental separation do not need to get in the way of your child's cognitive development or language abilities. Parents should offer love and support and focus on raising children responsibly, even if they're growing up in two different households.
This article was written in collaboration with Better Speech. Better Speech has helped thousands of children and families. They are committed to providing affordable, convenient, and effective online speech therapy for kids and adults. Their clients are matched with the best therapist for their needs and get affordable therapy at the comfort of their home, when it's convenient for them (even on weekends or evenings).
Education and Behavior – Keeping parents, caregivers, educators, counselors, and therapists on the same page with what the science says works! Helping children in the areas of academics, behavior, and social-emotional development.
Tools to Help Children with Speech-Language Development
Rachel Wise is the author and founder of Education and Behavior. Rachel created Education and Behavior in 2014 for adults to have an easy way to access research-based information to support children in the areas of learning, behavior, and social-emotional development. As a survivor of abuse, neglect, and bullying, Rachel slipped through the cracks of her school and community. Education and Behavior hopes to play a role in preventing that from happening to other children. Rachel is also the author of Building Confidence and  Improving Behavior in Children: A Guide for Parents and Teachers.
"Children do best when there is consistency within and across settings (i.e., home, school, community). Education and Behavior allows us to maintain that consistency."