5 Great Books to Teach Young Children About Empathy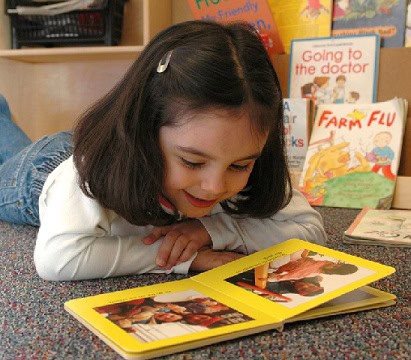 As a behavior specialist and mobile therapist, I always loved using books to teach kids about a variety of social-emotional skills such as how to understand your feelings, how to be a friend, how to accept differences, how to develop empathy, how to solve a problem, how to be a good citizen, etc. Research also supports the benefits of using children's books to teach these skills (see research references at the bottom of this article). Below is a list of  five great books to teach young children about empathy and caring for others. Just as important as it is for us to have empathy for our children, we want to teach them the importance of having empathy for others!
Stay tuned for more book lists on a variety of social-emotional topics.
5 Great Books to Teach Young Children About Empathy
1. Bear Feels Sick by Karma Wilson and Jane Chapman (Ages 3-5)
This book is about a lovable character named Bear. Bear does not feel well. He is sneezing, wheezing, and achy. He is too sick to play outside.  His friends come over to help him feel comfortable, but just as Bear starts to get better, his friends feel sick.
Using clear, child-friendly words and illustrations, Understand and Care, helps children learn that other people have feelings like theirs—and feelings different from theirs. It teaches children to show they care by listening to others and respecting their feelings. I love that this book also includes questions to discuss and empathy games to play.
This simple book, helps children understand the importance of caring for others when they are  sick, hurt, or unhappy. It also helps children understand the concept of "treat others how you wish to be treated." It highlights the benefits of offering and receiving support from others.
This is a heartwarming story about the importance of making friendships and helping others. The power of kindness is emphasized in this adorable book, when a student with a language barrier needs to find his way in a new school.
This fun book uses lovable  characters and an interactive approach to help children explore feelings, while also teaching them specific things to do and say in a conversation. Children also learn how to read nonverbal language to understand how someone is feeling.
Share with us which children's books you love for teaching empathy or other social-emotional skills. It may be featured on our blog!
Research References
Primarily peaceful: Nurturing Peace in the Primary Grades 
Using Children's Stories to Promote Peace in Classrooms
Integrating Literature-Based Social Skills Lessons into an Early Childhood Setting 
Social-Emotional Teaching Strategies
You Might Also Like:
5 Highly Rated Kids' Games for Practicing Social Skills
Research Says We Can Help Kids of All Ages Develop Empathy – Find Out How
5 Great Activities to Do with Your Social Skills Group
8 Fun Activities to Practice Social Skills with Your Child
Thank you for visiting www.educationandbehavior.com, a free resource for parents, caregivers, educators, and counselors! We provide academic, behavioral, and social-emotional support for children. Browse our topics/categories from the menu button at the top left of the page! Receive our updates on Facebook!
Rachel Wise is a certified school psychologist and licensed behavior specialist with a Master's Degree in Education. She is also the head author and CEO at educationandbehavior.com, a site for parents, caregivers, educators, counselors, and therapists to find effective, research-based strategies that work for children. Rachel has been working with individuals with academic and behavioral needs for over 20 years and has a passion for making a positive difference in the lives of children and the adults who support them. For Rachel's top behavioral strategies all in one place, check out her book, Building Confidence and Improving Behavior in Children, a Guide for Parents and Teachers. If you want Rachel to write for your business, offer behavioral or academic consultation, or speak at your facility about research-based strategies that support children, email her at rachelwise@educationandbehvior.com.