[widget id="bcn_widget-2"]
Parents and Kids Can Try Any of These Five Fun Crafts Together to Strengthen Bonds and Improve Mood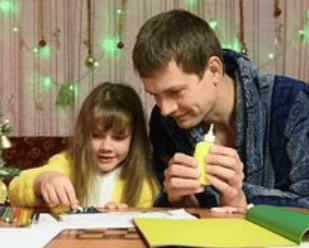 Research demonstrates the positive impact that crafting (making, creating, constructing) has on mood. It is shown to reduce stress and anxiety. Research also shows that when we use our brains for problem-solving, designing, creation, and collaboration, we strengthen our minds, build our confidence, and perfect our skills. Crafting can be a regular habit to proactively reduce stress.
Try Any of These Five Fun Craft Ideas with Your Kids
1. Make a suncatcher for your window.
Color a coffee filter, then fold it into a triangle. Dip the triangle in water and open up the coffee filter. Be careful not to rip it. Let the coffee filter dry. Glue a border around the coffee filter and cut off the excess. Hang it on a window and see the light come through.
2. Make jewelry with beads.
Beading is a great way to use your imagination, style, and design skills. There are so many varieties of beads and lacing them on a string is also great for fine motor skills (i.e., building strength in the hand muscles and improving coordination in thehands). Make jewelry with or for your child, and ask your child to do the same.
3. Make a target game out of a cardboard box.
Put holes in the box to throw a ball through (assign points or categories). This is a great way for children to practice perfecting their skills in the areas of throwing and aim. With you as their partner, they can also work on turn-taking and sportsmanship, important social skills. Cutting and gluing to make the game is good fine motor skills as well.
4. Build a fort.
Do you have blankets, chairs, tables, or anything else (you and) your child can go in and under? Make a decked-out fort. You can decorate it, make it small or big, and put your child's favorite things inside. Maybe this can be their little hideout when they just need that time to themselves. Let them participate in the creation of just how the fort will look. Helping to design and create their own space is definitely empowering and uplifting,
5. Color together.
Research demonstrates the therapeutic benefits of coloring. There are free coloring pages you can print out online. You can also draw a picture together from scratch on a blank page and color in your drawing. You may want to print or draw some of your child's favorite characters, animals, etc. Make a picture together and hang it up. This is not just for little ones. Research even shows that coloring reduces anxiety in adults.
What crafts do you like to do with your children or students? Comment below and let us know! Take a picture of you doing a craft with your child and share it in the comments.
Education and Behavior – A Free Research-Based Online Library to Support Children's Academic, Behavioral, and Social-Emotional Development.
Rachel Wise is the author and founder of Education and Behavior. Rachel created Education and Behavior in 2014 for adults to have an easy way to access research-based information to support children in the areas of learning, behavior, and social-emotional development. As a survivor of abuse, neglect, and bullying, Rachel slipped through the cracks of her school and community. Education and Behavior hopes to play a role in preventing that from happening to other children. Rachel is also the author of Building Confidence and  Improving Behavior in Children: A Guide for Parents and Teachers.
"Children do best when there is consistency within and across settings (i.e., home, school, community). Education and Behavior allows us to maintain that consistency."